Indigi Designs: when impatience pays off with more than textiles
How many times have you told somebody about a deepest wish or desire and their response is often "well, just do it then", which often seems easier said than..well, done. But sometimes doing it is actually the only way to begin as simple and complex as it sounds. Natalie of
Indigi Designs
started her textile company in just that fashion, once simply wanting something was no longer enough.
The idea for Indigi Designs came into play during a time when Natalie was working long hours and consequently feeling really stressed.  She wanted to change her lifestyle, be present with her children, and walk to the beat of her own drum. Having always dreamt of owning her own design label, the day finally arrived where the compulsion to act was strong enough and she just got up and did it, "It was really scary and very tough but it was the best thing I could have done". 
Natalie decided on incorporating a synergy to her mixed heritage in the brand name of her company. 'Indigi Designs' came from the word 'indigenous' because Natalie grew up between South Africa and Australia, and both indigenous tribes use the dot painting technique in their tribal art.  After studying interior design, Natalie went into retail, starting out as the homeware buyer for a well-known local furniture retailer. In 2011 she went solo and founded Indigi Designs, with her showroom now in the Woodstock Foundry.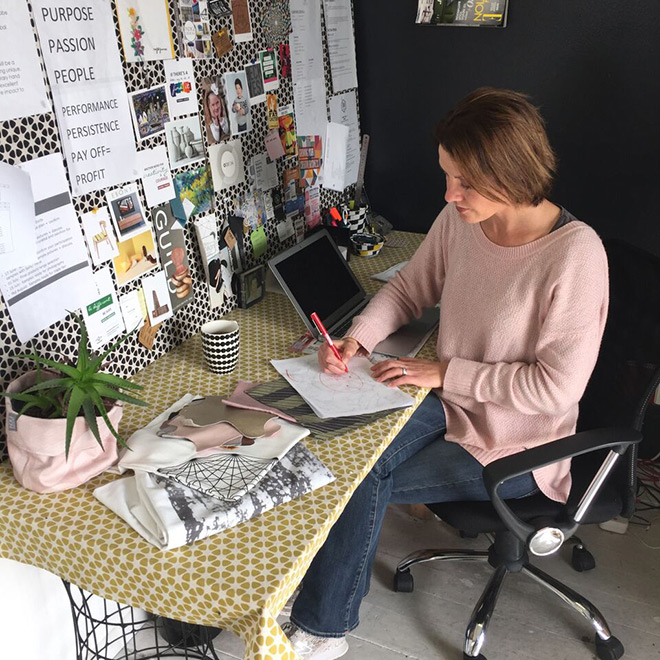 Natalie believes there is inspiration everywhere if you take the time to look at the world through a different lens, "I'm a bit of a sponge so I'm always absorbing, collating and processing, which then accumulates into firm concepts and collection ideas at some point". Working on a collection is more like an accumulation of life experiences and visuals for her, which over a period of time, translate into a story she can communicate through products.
Indigi is a dynamic South African lifestyle brand merging contemporary design and local craftsmanship. The collection consists of locally printed textiles, furniture, lighting, décor, and accessories, all telling a cohesive story infused with African influences, global appeal, and longevity. An emphasis is placed on local hand crafting, innovative design, sustainable materials and fair trade principles.
Natalie loves to create. Not just through design, but the creation and growth of the company, the creation of jobs, products, systems, and people's inherent abilities, contributing to South African design and local manufacturing, "The creation of something that can outlive me, that has it's own life".
To create some of our own indigenous touches in your kitchen and living space, check out the exclusive apron and oven glove combo created for Yuppiechef for the month of our birthday.