How to make Glühwein: a star anise and orange infused mulled wine recipe
This heart-warming drink is a lovely addition to any winter meal. The aromas alone will make your home inviting to any guests, and it's great served as a welcome drink. This mulled wine recipe is packed with flavour and can turn even a bland bottle of red wine into something quite punchy. It not only tastes good, but looks beautiful too.
Ingredients:
Makes: 4 glasses | Prep: 5 min | Cook: 10 min
750 ml bottle red wine
Juice of 2 oranges
Zest of 1 orange
1 orange, sliced into rounds
4 Jimmy Public star anise
2 Jimmy Public cinnamon quills
4 Jimmy Public cloves
10 ml (2 tsp) sugar
Method:
1. Place all ingredients into a saucepan and bring to a simmer.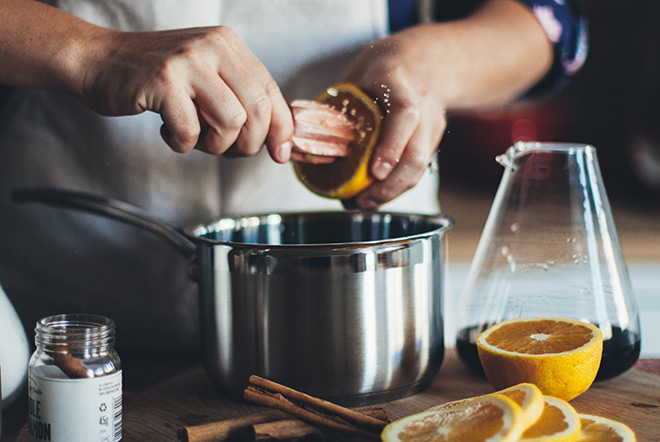 2. Reduce the heat and allow to infuse for 10 minutes.

3. Pour into glasses and serve immediately.
May this recipe become a regular winter staple, enjoyed by the fire with friends and raucous laughter. Sign up to our newsletters to make sure you don't miss any more gems like this one.