How to make easy Asian style sausage rolls
We've cooked up the most delicious snack for you, the perfect blend of crispy pastry and meaty goodness.  These little pastries have all the goodness of a sausage roll with authentic Asian flavours that have created ridiculously delicious little morsels.  Bake them and keep them close for continuous snacking.  Don't forget the sweet chilli for dipping.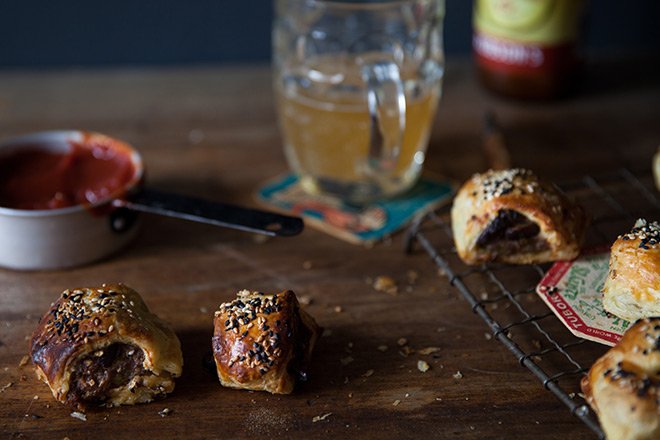 Ingredients:
1 bunch spring onions, finely chopped
1 tsp roasted garlic paste
1 tsp Chinese 5 spice
6 dried shiitake mushrooms
500 g good quality pork mince from your butcher
Soy sauce, for seasoning
1 roll puff pastry
1 egg, beaten
Black or white sesame seeds, to sprinkle
Method:
1. Preheat the oven to 200°C.
2. Toss the spring onions with a glug of oil into a frying pan and fry over a medium heat for a few minutes until just softened.
3. Stir in the garlic paste and Chinese 5 spice, cook for a minute then remove from the heat and allow to cool.
4. Soak the shiitake mushrooms in 175 ml of boiling water for 10–15 minutes until they are soft. Remove, drain and chop finely.
5. In a large bowl, mix together the pork mince with the shiitake mushrooms and spring onion mixture. Season with a few teaspoons of soy sauce, and set aside.
6. Sprinkle a bit of flour onto your work surface and then roll the pastry out slightly longer than its original size. Using a knife or a pizza wheel, cut it lengthways so you are left with two long rectangles. Now, divide your meat mixture into two portions.
7. Spread one portion of your meat mixture down the length of one of your pastry rectangles. Keep the meat to the right half of the pastry rectangle, but make sure you leave about a finger's width free on the outer right edge.
8. Using the beaten egg and a pastry brush, brush the entire left hand side of the pastry, just up to the meat mixture.
9. Fold over the left side to meet the right outer edge, and squeeze together to secure the roll.
10. Divide the long roll into 8–10 parts – depending on what size sausage rolls you want. Brush with egg again on the top of the roll and place them on a baking sheet.
11. Repeat steps 7 to 10 with the other rectangle.
12. Sprinkle each roll with a few sesame seeds. The egg should help them stick to the pastry.
13. Place them in the oven and cook for 15–20 minutes or until crispy and golden.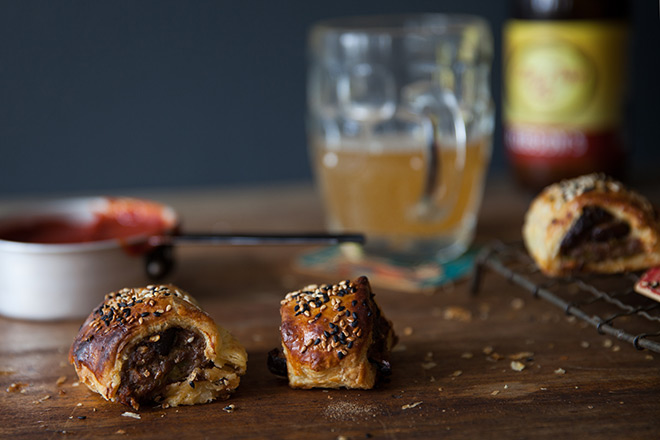 Have you ever tried Asian inspired sausage rolls? Well now you can.  Make sure you sign up to our newsletter, to see what else we are doing in the kitchen.