How to make Christmas Ice Cream
As well as loving the traditional fare, we really like the idea of tailored Christmas recipes and tips for us Southern hemipsherers.
Remember food stylist Jules Mercer? She sent us this delightful recipe for Christmas Ice Cream and shot the festive, creamy goodness she made with epic photographer Toby Murphy and props from Quirky Me in The Old Biscuit Mill in Cape Town.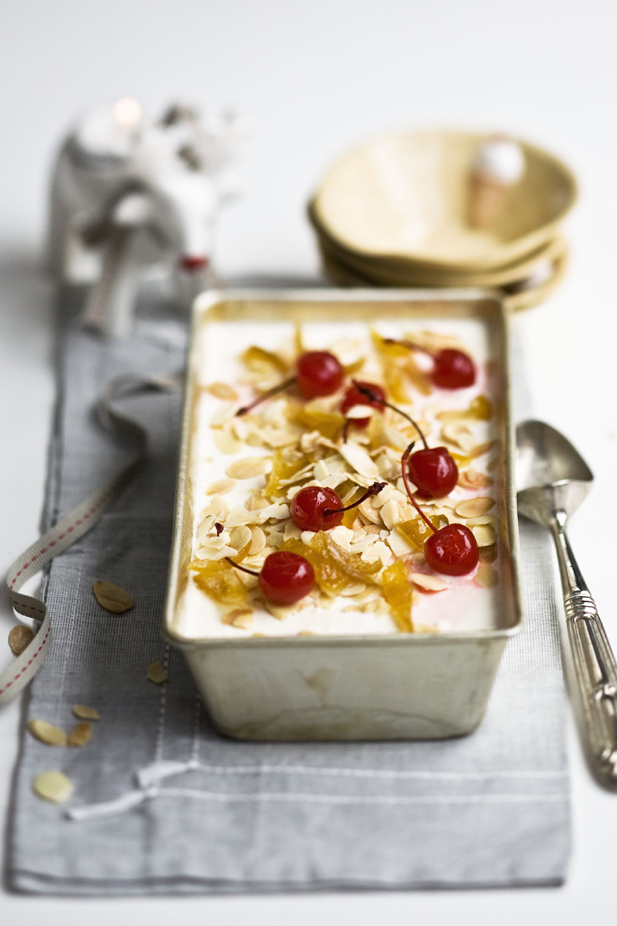 "A fab alternative for us lucky ones in the southern hemisphere, where sunshine and christmas pudding just dont mix too well for some.  Make this well ahead and keep in the freezer, then simply whip it out on christmas day – with that domestic goddess laissez faire. Feel free to omit the brandy. but, its christmas, why would you?
I have included a recipe for soft and velvety home made ice cream which is the perfect base to start with – however it does require an ice cream maker. If you dont have one, believe me (and everyone else who has one) they are an investment you won't regret. Ice creams, granitas, sorbets, all in twenty minutes. A blue chip investment.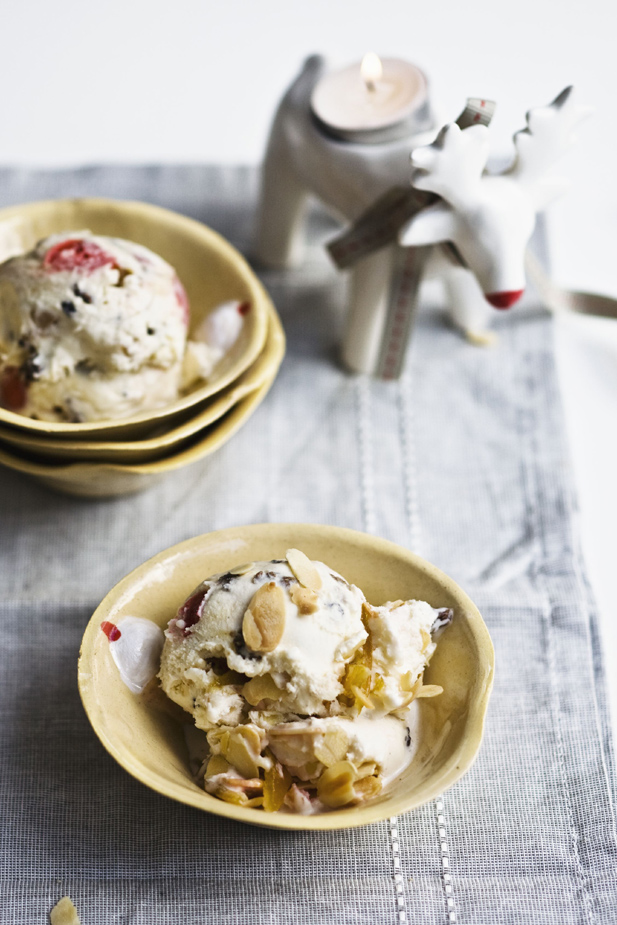 Ingredients
5 egg yolks
150g sugar
600ml cream
1 vanilla pod
250g cake mix
100g sliced almonds, toasted
4-5 tbsp good brandy (more if you're keen)
2 tbsp candied peel (plus extra to serve)
handful of maraschino cherries (plus extra to serve)
1. Heat the cream with the vanilla pod (seeds scraped out) until just before boiling point. remove from the heat and allow to cool to warmish temperature.
2. In a separate bowl, beat the egg yolks with the sugar. add the cooled cream, whisking all the time.
3. Pour into the ice cream machine and churn for 25 minutes until set.
4. Once the ice cream is done, remove from the machine and place in a large bowl. Mix in the cake mix, sliced almonds, brandy, candied peel and maraschino cherries.
5. Place in the freezer for a couple of hours to freeze completely. serve with extra candied peel, sliced almonds and a syrupy dessert wine.
* if you dont have an ice cream maker, substitute the home made recipe above with 1 litre tub of the best quality vanilla ice cream your buck can buy"
Mmmmmmmmm.
Credits:
Stylist: Jules Mercer
Photography: Toby Murphy
Props: Quirky Me in The Old Biscuit Mill (082 417 1885)