How to make an heirloom tomato and ricotta tart
Cheese and tomato is a winning, classic combo that we just can't get enough of. We took the humble duo and turned these simple, everyday ingredients into something worthy of becoming a family favourite. This scrumptious vegetarian tart is layered with ricotta and heirloom tomatoes, making it perfect for a light dinner or picnic.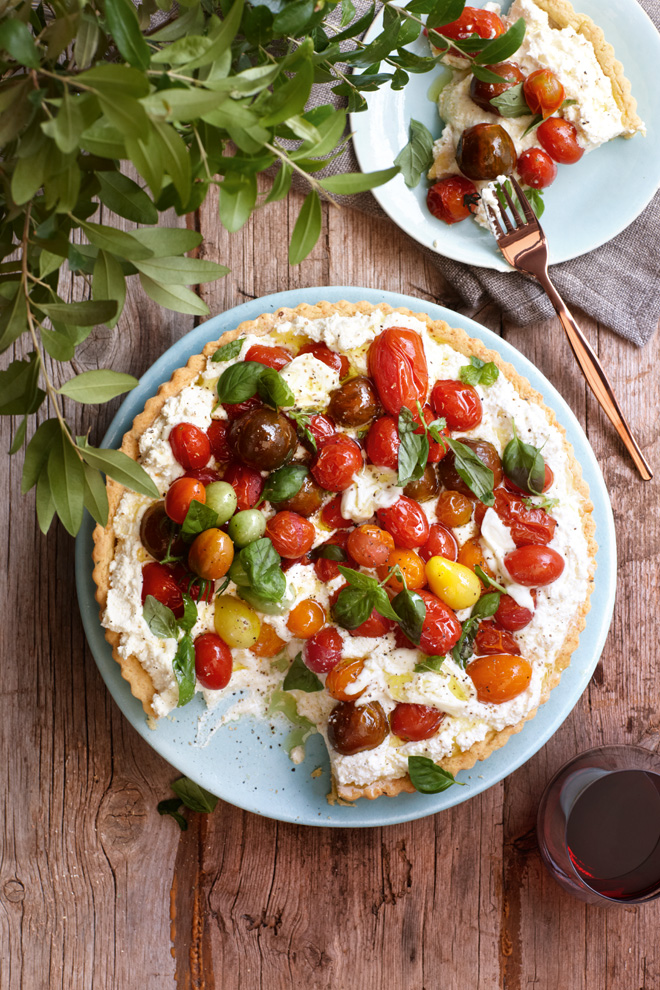 Ingredients
For the pastry:
250 g cake wheat flour
½ tsp salt
150 g cold butter, cubed
115 g grated cheddar
1 tsp chopped fresh thyme
1 egg
For the filling:
750 g assorted heirloom tomatoes
¼ cup (60 ml) olive oil
1 tsp brown sugar
250 g ricotta
100 g goat's cheese
100 g cream cheese
1 cup (250 ml) cream
Zest of 1 lemon
½ tsp salt or to taste
1 ball fresh mozzarella, torn
Fresh basil, to serve
Method
1. Place all the pastry ingredients except the egg in a food processor and pulse until the mixture resembles breadcrumbs.
2. Add the egg and process until the dough just comes together. Don't overwork it.
3. Shape the dough into a ball, wrap in cling film and refrigerate for 1 hour.
4. Preheat the oven to 180 °C and lightly grease a 24 cm tart pan.
5. Roll out the pastry between 2 sheets of baking paper until it's about 4 mm thick. Remove the top sheet, flip the pastry into the pan and remove the remaining layer of paper.
6. Press the pastry down into the base and up the sides of the pan and discard excess pastry.
7. Prick the base all over with a fork and place back in the fridge for 15 minutes to firm up.
8. Bake blind for 15 to 20 minutes or until golden brown and crisp. Remove from the oven and leave the tart shell to cool completely.
9. In the meantime, toss the tomatoes, olive oil and sugar together and roast in the oven for 20 minutes or until the tomatoes are soft and caramelised. Set aside to cool.
10. Mix ricotta, goat's cheese, cream cheese and cream together. Add the lemon zest and season to taste.
11. Spread the cheese mixture into the tart shell and scatter over pieces of torn mozzarella. Pile on the roasted tomatoes and garnish with lots of fresh basil leaves.
Gather around the table and take it easy while enjoying this simple yet satisfying meal, paired with a fresh salad.