How to make a calzone
Sometimes the quickest way to a person's heart is through their stomach and a calzone is like two pizzas hugging. The Italian word for trouser or stocking, a calzone is traditionally a half-moon or folded pizza. Here's a slightly cheesy but ever-so-lovely version you can make for your special someone.
Ingredients (makes 2 small calzones or 1 large one):
For the dough
2 1⁄2 cups strong white bread flour, plus more for work surface and bowl
A generous pinch of fine sea salt
230ml lukewarm water
1 packet of active dry yeast
A generous pinch of sugar
2 Tbsp extra virgin olive oil
For the filling
1 NoMU tomato pesto
½ chopped onion
2 garlic cloves
½ punnet of mixed wild mushrooms, chopped
2 stems fresh thyme
2 cups baby spinach
10 slices of salami, chopped up
8 olives
250g mozzarella, grated
50g parmesan
Method:
1. Pre-heat the oven to 250ºC and place a pizza stone in the oven. We used the Kitchen Craft Pizza Stone.
2. To make the dough, place the flour and salt in the bowl of an electric mixer or food processor fitted with a dough hook/paddle, like the Magimix, and pulse to combine.
3. Combine the lukewarm water, yeast, sugar and olive oil in a separate bowl. Gradually add this to the flour and salt mixture while the machine is running. Process until a dough has formed.
4. Remove the dough from the mixer and knead lightly on a floured work surface.
5. Dust a large bowl with flour and transfer dough to the bowl. Sprinkle flour on top of the dough and cover with a damp towel. Leave the dough to stand in a warm place until it has doubled in size. This should take about 1 hour.
6. Punch down the dough and turn it out onto a lightly floured work surface. If you're not planning to use it immediately keep it cool by placing the dough in the fridge.
7.  With a rolling pin at the ready, roll out the pizza dough to about 5mm thick. We used the handy Joseph Joseph Adjustable Rolling Pin to keep the thickness consistent.
8. To achieve a heart shaped calzone, you need to draw a stencil onto a sheet of baking paper. For a small calzone aim for 20cm wide from left to right and for a large one 30cm. If you find yourself struggling try downloading a heart template. If doing the heart-shaped thing isn't for you, simply cut out circular pizza shapes.
9.  Once your stencil is cut out, place it on top of your rolled out dough and use a pizza cutter to trace the heart shape onto the dough.
10. With this dough amount you can roll and cut out four small heart shapes (which would make 2 small calzones) or two large heart shapes (which would make 1 large calzone).
11. Use a cake lifter like the Gefu Cake and Pizza Peel to lift the heart shaped dough off the counter and place aside on a floured plate or oven tray.
12. To make the filling, heat a medium sized pan and add a splash of olive oil and all the onions. We sliced them up chop chop using a mandoline.
13. As soon as the onions start to brown add the chopped thyme. Next add the crushed garlic and mushrooms. Fry for about 2 minutes.
14. Add the baby spinach, salami and pitted olives. Add in 5ml of water and cover with a lid so that the spinach can steam.
15. Mix up your NoMU tomato pesto. Use a basting brush to brush both sides of the pizza heart.
16. Spoon the cooled down filling into the middle of each heart (if you're making two small ones) and spread the filling outwards. Top with your grated mozzarella and parmesan. If you're making moon shaped calzones, place your filling to the one side as you would do with an omelette.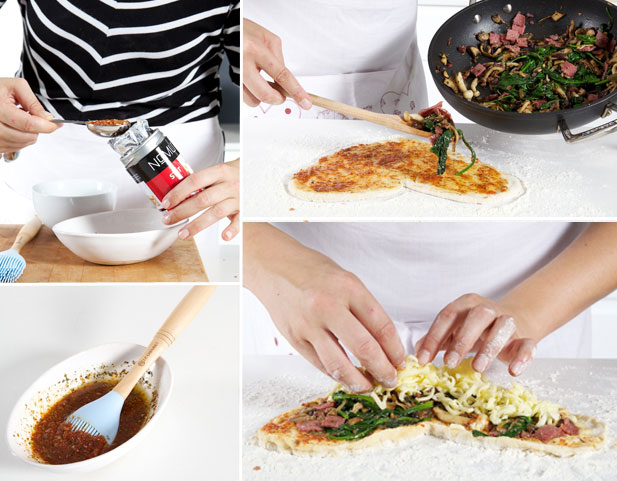 17.  Flip the top of the accompanying heart shaped pizza dough over,  so your tomato pesto side faces inwards. For the half moon calzone flip the other half of the circle over. Crimp the edges by pinching them together.
18. Remove the Kitchen Craft Pizza Stone from the oven and place your heart shaped calzone on it by using a lifter. Don't add any additional flour to the surface of the pizza stone.
19. Bake for about 20-25 minutes until the crust of the calzone starts to become brown and crispy.
Cut into slices and serve with a great glass of red. Now that's a labour of love, no?
For more pizza inspiration, check out Massimo's five golden rules of pizza making.
With thanks to Sybil Doms for her lovely styling and beautiful recipes.