How to dry your own fruit
What's a South African road trip without some dried mango? Instead of shop-bought dried fruit that can come with a hefty price tag and a few preservatives, have you considered making your own? With the 
Mellerware Biltong King & Food Dehydrator
 drying your own fruit couldn't be easier, ensuring chemical free good stuff in mere hours. Peachy keen? Here's what you need to know.
Ingredients:
4-5 favourite fruits (or a handful of small fruits)
50ml lemon juice
200ml water
Here's some inspiration:
Apples
Pears
Cherries
Cranberries
Strawberries
Pineapple
Mango
Banana
Kiwi
Added extras:
Cinnamon
Sparkling wine
Equipment:
Mellerware Biltong King and Food Dehydrator
Mandolin
Knives
Potato peeler
Bowl
Chopping board
Measuring cups
Method:
1. Cut your fruit into approximately 5-8mm thick slices. You can play around with shapes and sizes for a variety of textures and juiciness – thinner slices will dry more than thick chunks. Make sure to remove cores, peels and pips – these will taste hard and bitter once dried.
TIP: Apple slices work wonderfully when cut to approximately 2mm slices. Mangoes turn out champs when cut into 10mm slices. Strawberries work well simply sliced in half.
2. Treat fruits like bananas and apples by soaking them in the lemon-water solution for a couple minutes as this will stop them going brown. Simply mix 1 part lemon juice to 4 parts water.
3. If you are going all out – now is the time to sprinkle with cinnamon or other tasty spices.
4. Place fruit slices on the shelves and insert a 40 watt light bulb.
5. Leave your fruit to dry, depending on the fruit and the thickness, this could take between 6 hours to 3 days. When your fruit is done, you should be able to squeeze it and there should be no moisture.
Time estimates
We've been testing this machine and found mango takes between 24-36 hours; apples and pineapple pieces take roughly 24 hours and strawberry halves take 36 hours.
It's as simple as that, folks. In no time at all you'll be going bananas for your new found dried fruit freedom.
Head this way for some more top tips on fruit drying.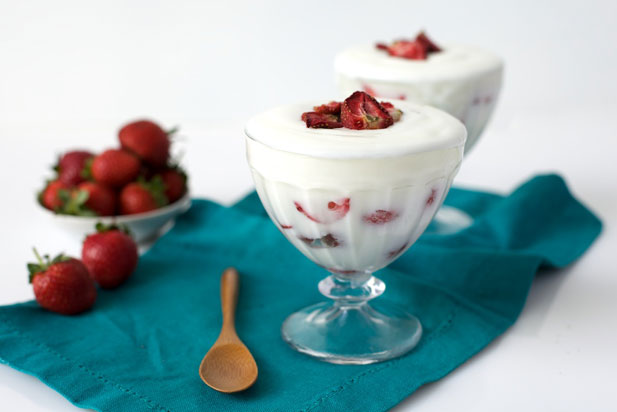 Check out the Mellerware Biltong King and Food Dehydrator on Yuppiechef.com. If you don't have a dehydrator, dry roasting it in the oven is also an option although it might not be particularly energy efficient, depending on your oven.
Thanks to Robyn, one of our star interns, for all her research and input into this dried fruit adventure.