Homestyle chicken dumpling soup for a peace-seeking soul
This hearty, home-style broth is a great winter addition to your repertoire. It's an affordable, healthy and tasty meal, which warms the stomach on a cold, wet evening. This recipe can be made in large batches and portioned and frozen for an easy lunch or dinner option. You can also be creative and add your take on vegetable combinations to the broth.
Ingredients:
Makes: 4 portions | Prep: 3 hours | Cook: 10 min
For the broth
1 leftover chicken carcass from the last family roast
2 onions, chopped
2 carrots, peeled and chopped
2 leeks, chopped
2 bay leaves
10 peppercorns
Water
Salt and pepper
For the dumplings
500 g chicken mince
1 stick lemongrass, finely chopped
5 g chopped coriander
5 ml (1 tsp) Jimmy Public chili flakes
5 ml (1 tsp) Jimmy Public paprika
Zest of 1 lime
10 ml (2 tsp) chickpea flour
Salt and pepper
100 g vermicelli noodles, soaked in hot water
2 large carrots, julienned or spiralled
Fresh coriander
Method:
For the broth
1. Place the chicken carcass, onion, carrots, leeks, bay leaves and peppercorns into a 5 litre pot and cover with water.
2. Bring to the simmer and gently cook for 2 hours.
3. Strain and return liquid back to the pot and reduce liquid to about 800 ml.
4. Season with salt and pepper.
For the dumplings
1. Mix the dumpling ingredients together and season with salt and pepper.
2. Divide into 16 balls.
3. Poach the chicken dumplings gently in the broth until just cooked, for approximately 5 minutes.
4. Add the carrot and vermicelli noodles and simmer for a further 2 minutes.
5. Serve garnished with fresh coriander.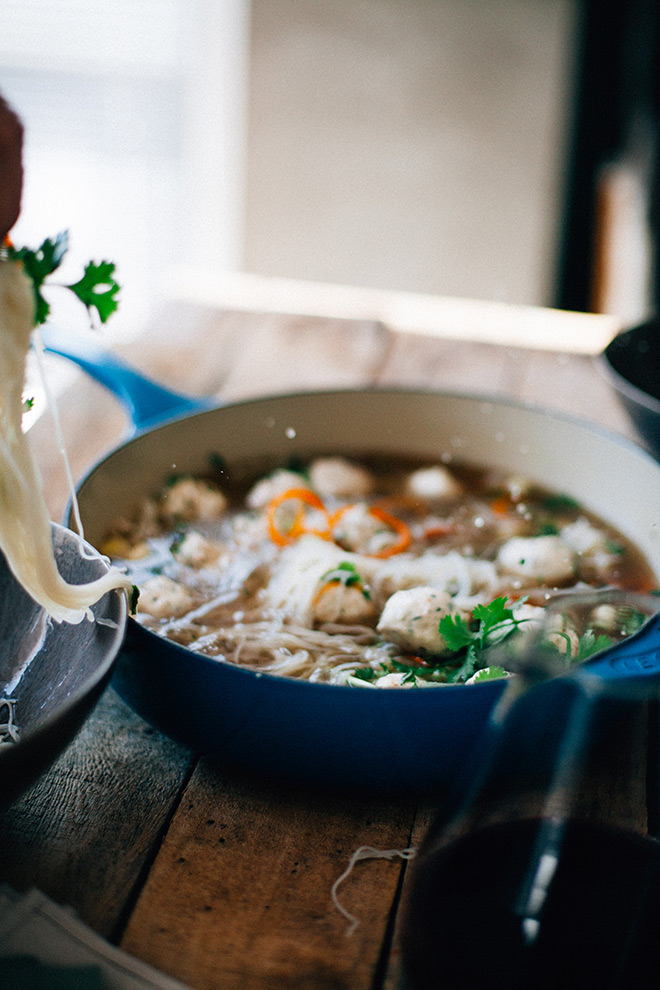 This dish is always a soulful addition to the chillier evenings and can only bring restoration and calm to any home and dinner table. If you enjoyed this recipe, sign up to our newsletters to make sure great cooking inspiration like this finds its way right to your weekly inbox.