Homemade Chocolate Macaroons
Christopher Reid sent us this recipe, which he used to test out the
KitchenAid Artisan Stand Mixer
.
Ingredients
3 egg whites (at room temperature)
125g ground almonds
125g icing sugar
25g cocoa
125g castor sugar
100g dark chocolate
100g cream
25g unsalted butter
To make the macaroon halves

– Blend the almonds, icing sugar and cocoa in a food processor until fine.
– Beat the eggs whites and half the castor sugar until you get to firm peaks.
– Add the rest of the castor sugar and beat until dissolved.
– Fold the almond mixture into the beaten egg whites.
– Line two baking trays with parchment and pipe on walnut sized balls of batter.
Leave these to sit for 20 minutes (it's macaron voodoo) and then bake at 160 degrees C for about 12 minutes. Wedge the oven door open with a wooden spoon so it doesn't get too hot (similar macaron voodoo). Once they're cooked, remove and leave to cool completely.
The creamy part
Break the chocolate into pieces and place in a heatproof bowl. Bring the cream to a boil and pour over. Add the butter, and mix until well combined. Leave to cool slightly until it's nice and gooey.
The sandwiching

Make an indent in the flat side of one macaron, spoon over about a teaspoon of the chocolate mix and sandwich with another. Repeat until you've used all of them up.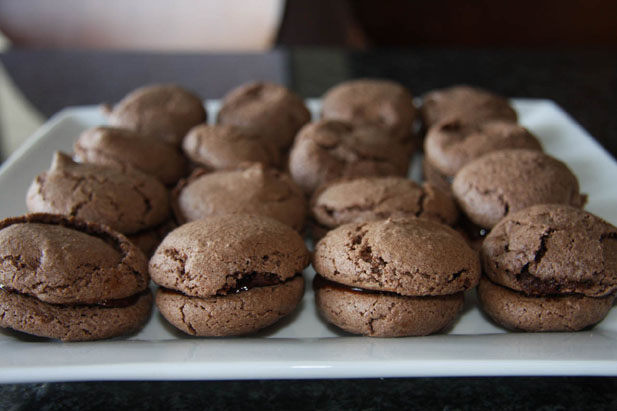 Mine were far from perfect – the tops cracked – but I feel it only added to the aesthetic. Try making temperamental confectionary in Durban humidity, and you'll understand this laissez-faire approach to appearances. Besides, they tasted delicious…
We're impressed. Try this at home folks. Unlike stunts with scissors and light sabres.
Oh and here's his full review of the Kitchen Artisan Standmixer.