Heirloom recipes: Marina's rhubarb crumble
Love it or hate it, when asked what ingredient makes you think of childhood, rhubarb often features. As part of our
Heirloom Recipe collection
, we've been digging out our childhood recipe favourites; dishes that we may like to pass on to our little ones one day. Over to you, Marina:
Rhubarb crumble has memories inextricably twisted into its stringy, zesty and caramel crunch goodness. Popular in Britain and reminding me of my faraway London grandparents (who we visited regularly growing up) it only featured a few times in our Cape Town household but holds a very nostalgic place in my heart.
Some facts about rhubarb are that its leaves are poisonous if eaten in large quantities and that it's only in season for a short time at the end of summer. It freezes well, so when you see it – stock up!
Serves 8
Preparation time: 15 minutes
Cooking time: 40 minutes (you need 30 minutes for the hot caramel to cool)
Ingredients
Filling
1kg of fresh rhubarb (washed and chopped)
1 and 1/4 cups of sugar
1/4 cup flour
1 tsp vanilla essence or seeds from a vanilla pod
Juice of 1/2 lime and 1/2 lemon and a bit of zest (if you like)
Crumble topping
1 cup flour
1/2 tsp salt
1 cup brown sugar
1/2 cup butter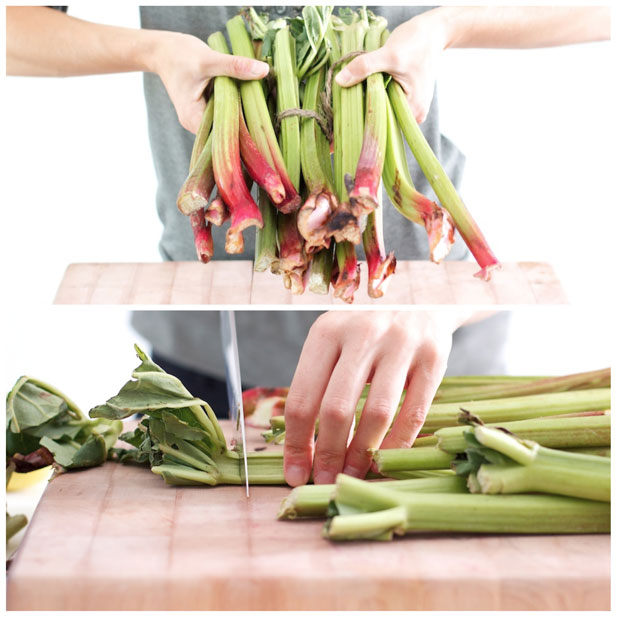 Method
1. Preheat the oven to 190°C.
2. Chop up your rhubarb.

3. In a big bowl mix chopped rhubarb, white sugar, flour, vanilla and lime and lemon juice/zest.

4. Grease a dish with butter and pour in the rhubarb mix.
5. Mix flour, salt and sugar for the crumble topping in a new bowl and rub in chopped butter (or MagiMix it).

6. Spread the topping over the rhubarb mix.

7. Cook for 35-45 minutes until the filling is bubbly and the topping is browned.

Let it cool and serve with pouring cream or marscapone. Add some cardamom for an alternative flavour experience.
Download print-friendly recipe.
Check out the other recipes in our Heirloom recipe collection.