Guilt-free dessert: coconut, lime and granadilla frozen yoghurt
Desserts don't have to be guilty pleasures. With just five ingredients you can whip up this delicious frozen yoghurt in your own home. Jazz it up with wafers, lime zest and extra granadilla for an impressive but healthy dinner party dessert. It'll make you rethink the way you treat yourself.
This summertime winner is made to scale up or down and perfect for those spontaneous summer suppers with friends.
Ingredients:
Prep time: 10 min | Freezing time: 45 min in an ice cream machine or overnight | Makes: 1.5 l
750 ml double thick yoghurt
400 ml tin coconut milk
6 granadillas, cut in half with pulp set aside
Juice of 2–3 fresh limes
125 ml/½ cup agave syrup
Cones, granadilla pulp, lime zest and wafers, to serve
Method:
1. Whisk the yoghurt in a bowl with the coconut milk, granadilla pulp (save a little for serving) and lime juice.
2. Sweeten to taste with up to ½ cup of agave syrup.
3. Transfer into the bowl of an ice cream machine and churn until smooth and creamy according to the manufacturer's instructions. Alternatively, if you don't have an ice cream machine, pour the mixture into a freezer-proof container and place in the freezer for 45 minutes, then whisk or beat it to break up any ice crystals. Repeat this a few times over four hours and leave overnight to set.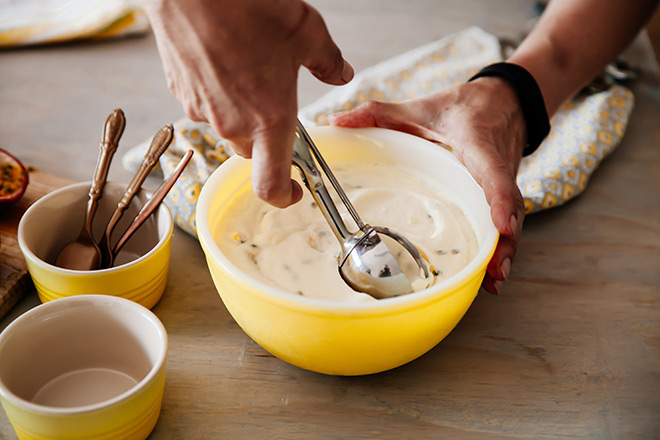 4. Serve in cones or in a ramekin with a dollop of fresh granadilla pulp, some lime zest and wafers.
Play with this recipe to create your own healthy alternatives for warm weather desserts.
For more glorious summer desserts, sign up to our newsletter or make this frozen yoghurt, snap and pic and share it with us on Instagram.