Granola for your Mum (yum)
This recipe is incredibly simple and allows you to be completely flexible with the quantities of ingredients (a novel concept for a control freak like me). The quantities below are a guideline more than anything and of course you could throw in anything else you like.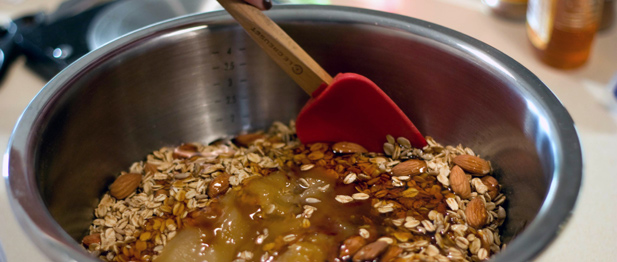 Happily, the granola is as delicious to eat as it is easy to make. You can put it in muffins for added crunch or smother it in yoghurt and drizzle with honey for breakfast. A beautifully presented batch of this cereal snack would make a great Mother's Day gift, especially in an old-fashioned preserve jar topped with a pretty ribbon. Minimum effort, maximum result!
Ingredients (makes 2.5 litres):
450g rolled oats
120g sunflower seeds
120g white sesame seeds
175g apple sauce
2 tsp ground cinnamon
1 tsp ground ginger
120g golden syrup
4 tbsp runny honey
100g light brown sugar
250g whole natural almonds
1 tsp salt
2 tbsp sunflower oil
300g raisins
Method:
1. Mix everything except the raisins together in a large mixing bowl.
2. Spread this mixture out on a large oven tray and bake in a 170°C oven, turning over about halfway through baking and re-distributing the granola evenly during the baking process. The object is to get it evenly golden without toasting too much in any one place. This should take anything from about 40 minutes to an hour.

3. Once it's baked, allow to cool and mix together with the raisins.
4. Store in an airtight container.
Recipe from: Feast by Nigella Lawson. Download the printable version of this recipe.