Granola cookies
If you've ever wondered whether the chocolate chip cookie comes in a healthier version, look no further. These granola cookies are scrumptious snacks with plenty of nutritious ingredients instead of the usual chocolate chips. My test batch disappeared in a couple of hours, so I think it's safe to say they are at least marginally delicious. And, from a baker's point of view, they are very simple to make with lots of room for improvisation.
Ingredients:
3 cups granola (you can substitute muesli if you don't have granola)
¾ cup dried fruit (you can use raisins or any other dried fruit)
½ cup chopped peanuts
½ cup pecans or walnuts
1/3 cup ground almonds
200g butter, at room temperature
1 cup brown sugar
1 egg
1 cup all-purpose flour
1/4 tsp salt (you can omit this if you used salted butter)
Method:
1. Preheat your oven to 180℃.
2. Line a baking tray with baking paper (NOT wax paper) or with a silpat mat and set aside.
3. With an electric mixer, cream the butter and sugar together for about 3 minutes until it is has lightened in colour. Then add the egg and salt.
4. Add the flour and mix until incorporated, followed by the granola, fruit, nuts and ground almonds.
5. Scoop small balls of dough (about 30g each) onto the baking sheet, placing them far enough apart to allow for spread during the bake, and flatten them slightly with your fingers.
6. Chill the tray in the fridge for 5-10 minutes before baking, to allow the butter to solidify.
7. Bake for 10 minutes – the cookies should be golden brown but not firm. Allow your cookies to cool for a few minutes before transferring them to a cooling rack.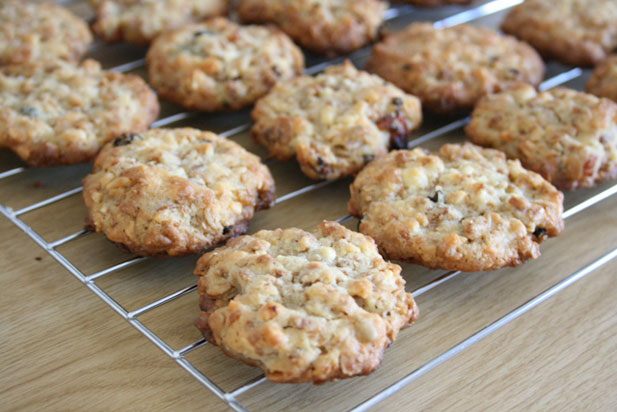 Easy, right? The trick with these cookies is to bake them for the right amount of time, so keep a close eye on the oven. One minute could be the difference between delicious and slightly burnt, unfortunately, so make sure you take them out as soon as they are nice and golden.
Now, can I pass these off as breakfast tomorrow morning… What do you guys think?
Download print-friendly recipe.