Welcome to the Zoku Chocolate Station
There's good news for all Zoku Quick Pop fans. The magical world of
Zoku
(where you can make ice lollies in just seven minutes) has just stepped up a gear with the launch of the brand new
Zoku Chocolate Station
. Drizzled, dipped, chocolaty, crackly shells are now within your grasp, oh yes siree.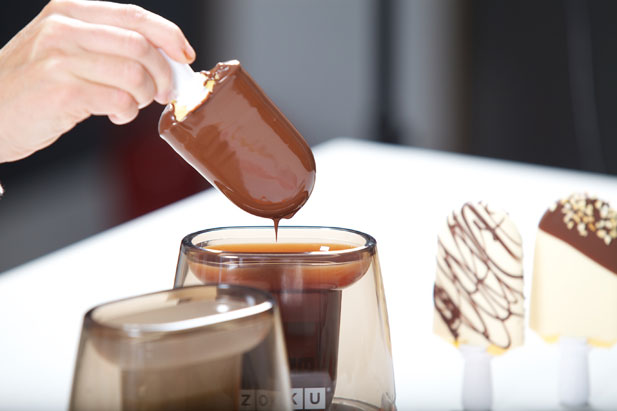 Tools required:

Zoku Quick Pop Maker

Zoku Chocolate Station
Ingredients
Zoku lollies of your choice:
Chocolate and vanilla lollies work well with dark and white chocolate in the dipping station. You can use milkshakes, yoghurt, milo – whatever takes your fancy. For more ideas, check out these Zoku recipes and tips.
For the dark chocolate dip:
1/3 cup coconut oil
2/3 cup dark chocolate
For the white chocolate dip:
1/3 cup coconut oil
2/3 cup white chocolate
For the sprinkles:
Be as creative as you like. You can use sprinkles, flake, almonds, pistachios. Use the sprinkle trays to keep your decorations contained.

Method:
1. Store your Zoku in the freezer, ideally overnight.
2. Make your Zoku pops. You can use yoghurt, milkshake, custard, cream, milo – whatever fires your imagination.

3. Melt your chocolate for the dipping station. The easiest and quickest way to melt chocolate is to heat it in a microwave. You'll need two microwave-safe bowls. Place the dark chocolate in one and the white chocolate in the other. One at a time put them in the microwave for approximately 30 seconds, then remove and stir. Repeat the process until the chocolate is smooth and creamy.
4. Once the chocolate has melted, stir in the coconut oil.
5. Pour the melted chocolate into the dipping stations and get ready to plunge your ice lollies and sprinkle, drizzle until your heart's content.

The Zoku Chocolate Station contains:
1 x Chocolate Station
1 x Drizzle Spoon
2 x Sprinkle Trays
1 x Cover
1 x Recipe Booklet
Plain and simple chocolaty fun.

Check out the Zoku Chocolate Station on Yuppiechef.com
Browse all Zoku products on Yuppiechef.com
Be inspired with our Zoku recipes