Fruity strawberry and banana Zoku polar pops
Kids can be showered in fancy gifts, have all the computer games their hearts desire but it takes a lot to beat sitting on the step, shoulder to shoulder with best friends and a quickly dripping ice lolly in hand. Sunny days are here again and with the brand new
Zoku Polar Slow Pop Freezer Mould
 and this easy and sugar-free recipe, these cute Zoku polar pops are definitely worth a try.
Believe it or not, it can be daunting deciding what to give kids for birthdays or Christmas but Zoku Slow Pop Freezer Moulds have come to my rescue many a time. Age simply doesn't matter – there is so much fun to be had coming up with different fillings and satisfaction when the perfect characters are popped out and gobbled up.
Ingredients:
Makes 6–8 pops
500 g ripe strawberries, stalks removed
1 medium banana, peeled
Honey to taste
Method:
1. Place the strawberries and banana into a Nutribullet or blender and blitz until smooth. Sweeten with a little honey if needed.
2. Spoon or pour the fruity mixture into your Zoku Polar Slow Pop Mould, insert the sticks and freeze for 8 hours or overnight.

3. Pop them out and enjoy these cool characters.
If you don't have fresh strawberries on hand, blueberries or frozen berries will work well too. For a Zoku yogiberry alternative, replace half the berries with 250 ml full cream yoghurt.
It's hard to believe the detail you will find on each of these little characters. From the polar bear to the orca, Zoku have created a range of characters the kids (and likely adults, if I count myself) will enjoy befriending this summer.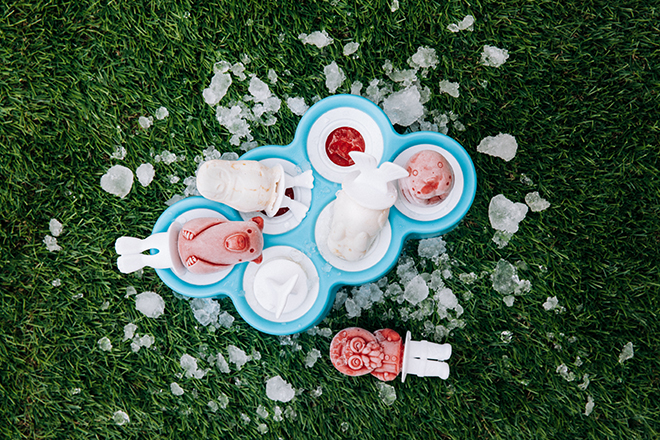 Got a friend or family member who is struggling to find the perfect gift for kids this season? Share the joy that is Zoku with them. They'll be thankful forever.