From side to satisfied: 4 simple ways to bulk up your salads
For most people, salad is what rabbits eat or the stuff they put on the side of your plate at restaurants; otherwise known as garnish. Does anyone actually eat the side of salad or is there some type of rotation system across patron's plates? I will never know. What I do know is how to take them from crunchy green water to a hunger-busting meal with a few simple steps to bulk up your salads.
So, I have compiled a "how-to" guide, taking salad to the gym and bulking it up the completely natural way without any performance enhancing substances (even though I believe avocados should be illegal because they are so good).
1. It's all about the base
Now that I have the annoying pop song stuck in your head; let me emphasise the importance of mixing up your leafy greens. Iceberg lettuce has some nutritionals but you might miss the boat (I guess not always a bad thing) on many important nutrients which you can get from other dark, leafy greens. Add handfuls of spinach, mustard greens, and kale to your lettuce base to receive a rich source of vitamin A, C, E and K.

Healthy highlight: These vegetables are also bursting with carotenoids–antioxidants associated with lower incidence of cancer when included in one's diet.
Try it in this beetroot, apple and spinach salad.
2. Gains with grains
Contrary to popular belief; wheat and barley can actually be used for purposes other than beer. Bread (also known as raw toast or hard beer) being one of those, was first discovered and then quickly sliced in the late 90s. You can also use these whole grains for your salad to help you stay fuller for longer. Quinoa, couscous, bulgur wheat, brown rice, farro, and barley are some other grains which are readily available, while being easy to prepare. These foods have a lower glycemic index or GI which means they are less likely to cause spikes in your blood sugar levels.

Healthy highlight: Not only do they keep you fuller for longer but they are known to reduce your chance of developing diabetes and heart disease.
Try it in any of these 5 comforting quinoa recipes.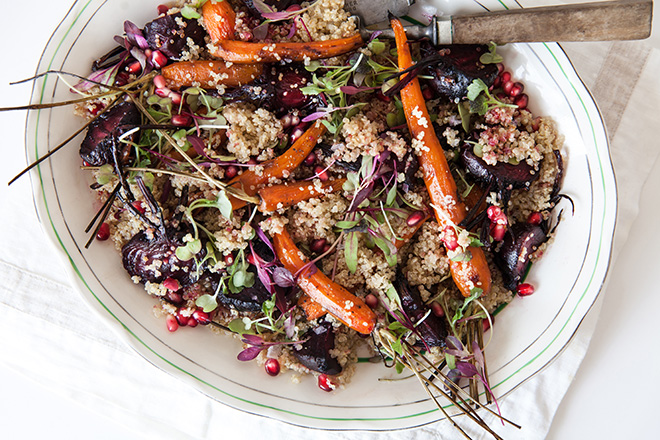 3. The good kind of fat
There are a few avoca-do's and avoca-don't's with any salad. Basically, don't be afraid to do as much avocado as possible. Did you know that about 80% of the calories are from fat? This fat is monounsaturated fat or "good fat" while being cholesterol free. Once you've bulked up with avo then move onto the nuts. One handful of walnuts is all you need and is enough to reduce your risk of early death by half! Finally, be sure to douse your salad with some olive oil.
Healthy highlight: Researchers have found that about four tablespoons of olive oil a day can greatly reduce your risk of heart disease.
Try it in this melon and avocado salad.
4. Where do you get your protein?
Keep your salad green and stick to plant-proteins; for reasons why this is a good idea check out my earlier post on being a weekday vegetarian. There are plenty of options out there that will make a 'powered by plants' salad, a taste sensation. If you aren't adding legumes and pulses to your greens, where have you been? Chickpeas can be added straight from the can – just make sure you drain them, unless you want a dressing of brine. Or roast them in some paprika for a crunchy addition.
The options are endless; black beans, butter beans, kidney beans, cannellini beans, has beans, you name it!
Try it in this roasted chickpea and buffalo mozzarella salad.
Also, why not try Fry's Family Foods Chicken-Style Strips? They're like chicken but, in a veggie kind of way.
There you go; my four simple steps to bulking up a salad. What do you think? Am I missing anything? Obviously there are the homemade dressings and spices or maybe even fruit? Let me know on Twitter or share your recipes on Instagram with Yuppiechef!