Food Blogger Indaba wrap-up
Every year, Colleen Grove and her band of blogging allies take on the challenge of organising another
SA Food Blogger Indaba
. We're not sure how she does it, but every year the event just gets better and better and 2014's Indaba was no exception. Here are some of our highlights.
We were pretty stoked to watch some of our Yuppiechef family up on the Indaba stage this year with Paul Galatis moderating a panel discussion on how to turn your blog into a book with the successful Sam Linsell, Ilse van der Merwe and Jane-Anne Hobbs. And then there was our very own Marina Pape, who gave a presentation on finding and winning comrades throughout the various social media channels.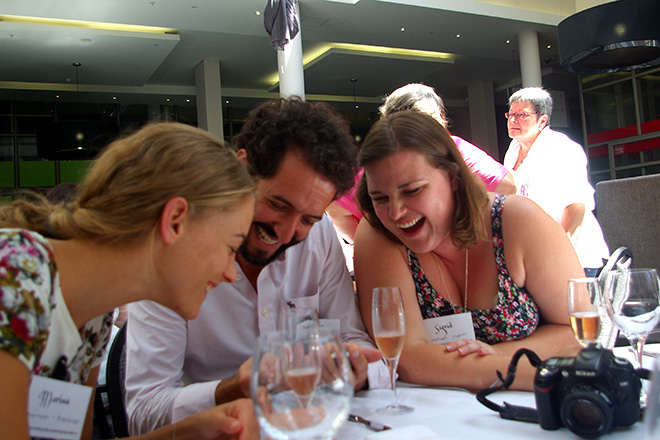 After all the well chosen speakers, among them Neil Pursey's jam-packed talk on SEO and Iaan van Niekerk's presentation on turning stats into strategy with Google Analytics, we're sure every one of the food bloggers in attendance left with a wealth of information on taking their blog to the next level.
A lovely buffet lunch in the sunlit restaurant of the Double Tree Hotel inspired some great banter and mingling with freshly inspired foodies. Did you sample the beef olives? So tasty.
Much of the afternoon was spent in the various workshops with eager foodies zooting from room to room to soak up info on their topics of choice. We attended the 'Dig for Victory' session with Matt Allison and our green thumbs are now itching to make friends with wriggling earthworms.
There were many fondant owls spotted during afternoon tea, which were all the proud result from Jennifer Nel's hands-on fondant decorating workshop. Neat.
Did you see the beautiful cake with all the sponsor's logos on it? Nice touch team SAFWiBI. It was a trendy event indeed, even the twittersphere was chirping about it.
This year's closing charity auction was in support of the Guide Dog's Association for the Blind, represented by Heidi and her gorgeous goldie, Olivia. We're super pleased to announce that the Food Blogger Indaba raised a whopping R30,000 for this great cause.
We could write a mini novel on this tip top event but best you try to attend next year's to see what all the hype is about. We won't even mention the bursting-at-the-seams goodie bags. See you next time?
A big congrats to all involved. It can't be described as anything less than a resounding and very tasty success.