Firm gift registry favourites
Think gift registries are just for weddings? We've noticed people use them for all sorts of things – milestone birthdays, kitchen teas, house warmings, anniversaries and showers of babies. They're also the best way to avoid getting ten pot plants or multiple slabs of chocolate. No two snow flakes are the same but we've noticed a few trends in gift selection, which we thought we'd share with you.
Le Creuset anything
Le Creuset has an established reputation of excellent quality and craftsmanship which makes it easy to understand why it is one of the most popular brands on our gifts registries. The Le Creuset cocottes, rectangular dishes, stove top kettles and mixing bowls are the most frequently selected items.
Chic tableware
Entertaining is clearly a priority for our registry holders – beautiful glassware such as the Bormiolli Rocco Ypsilon glasses and the Eva Solo Drip Free Carafe and wooden serving boards such as the Joie de Vivre Baguette et Fromage board number amongst the most sought after registry items.
Distinctive gifts
Items a bit different to the norm such as the Kitchen Craft Pure Oriental Noodle Bowl with 2 Chopsticks or the Kitchen Craft Pizza Stone Set are typically favoured by the gift buyers and some of the first registry items to go.
Starting out staples
For the person starting out, a gift registry is a great opportunity to work on the kitchen essentials which explains why the Morphy Richards Illuma 2 Slice Toaster and Nicolson Russell Conti Design Cutlery Set are such gift registry staples.
Fun and functional
Our funkier kitchen tools including the Chef'n G'Rabbit Pepper and Salt Grinders, the Fusionbrands Poach Pods and the Joseph Joseph Elevate Kitchen Tools grace the pages of the majority of our gift registries.
Top of the pops
The KitchenAid Artisan Mixer and the Magimix Food Processor are firm registry favourites. Who wouldn't want these items of beauty adorning their counters and taking their kitchens from fine to fabulous?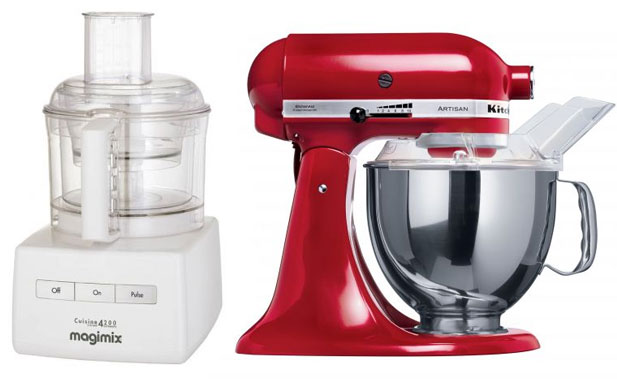 The beauty of books
These days cook books are more works of art than instruction manuals and make for inspiring and coveted registry items.
We hope it's been interesting reading about what other Yuppiechefs are putting out into the universe as their gift wishes. Feeling inspired? Create a registry for an upcoming event or login and start a wish list and keep track of the things your eye rests upon.