A rather fantastic coleslaw
Quick and easy servings of vegetables are something we could all do with more of. Recently, during a morning of
mandoline experimentations
, we concocted this delicious coleslaw with an eastern twist. A few easy swipes and slaw is served.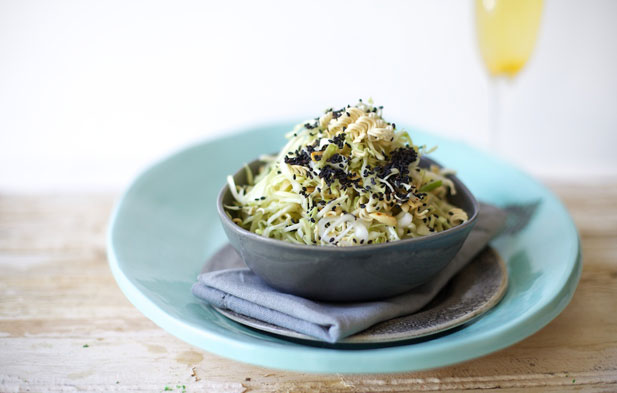 Ingredients (makes 4 servings):
2 Tbsp vegetable oil
3 Tbsp white wine vinegar
2 Tbsp white sugar
1 packet chicken flavoured 2 minute noodles, crushed, seasoning kept
2 Tbsp black sesame seeds
1/4 cup sliced almonds
2 small heads of cabbage, shredded
5 spring onions, chopped
1/2 tsp salt
1/2 tsp ground black pepper
Tools:
We used the De Buyer Kobra Complete Slicer. A mandoline really does make this super-easy but you can also use your fine julienning skills.
Method:
1. Preheat oven to 180ºC.
2. In a medium bowl, whisk together the oil, vinegar, sugar and 2 minute noodles seasoning.
3. Place sesame seeds and almonds in a single layer on a medium baking sheet and bake in the oven until light brown. Do the same for the crushed noodles.
Tip: Don't bake the noodles, almonds and sesame seeds for too long, as they tend to go bitter.
4. Slice the cabbage on the thinnest setting of the mandoline. The cabbage will automatically sliver without any additional chopping.
5. In a large salad bowl, combine the cabbage, green onions and crushed noodles that have been baked.
6. Pour the dressing over the cabbage and toss to coat evenly. Season with salt and pepper.
7. Top with toasted sesame seeds and almonds when you are ready to serve.
 With thanks to Sybil Doms for her lovely styling and beautiful recipes.