Essential tools for dim sum
Cooking techniques for dim sum are relatively straightforward. Boil, steam or fry. Get the right tools and you could make legendary snacks to rival any Cantonese tea house.
The steamer

Perfect for steaming dumplings and vegetables, these great-looking
multi-layered bamboo towers
have several benefits. One, is convenience because you can cook several things at once. The bamboo also absorbs any excess moisture and helps retain heat throughout while allowing air to filter freely, regulating the temperature and ensuring your food doesn't overheat. Added bonus? They're designed to fit in a wok. Check out the evolution of the bamboo steamer with the JIA Pot and Basket Steamer, made from porcelain, cedar wood and terracotta and suitable for use on the stove top, in the oven and even in the microwave.
The wok
The iconic all-purpose frying pan of Chinese cuisine, a good wok is indispensable. What a wok with it's deep edges has over a frying pan is surface area. Oil drains to the bottom and stays hot allowing you to use less oil and push food through it and to the sides instead of drowning the pan in cooking oil in an effort to heat the ingredients. The RoyalVKB Boomerang Wok has a specially-designed edge to allow you to flip your food without it landing on the wall or suffering 3rd degree burns.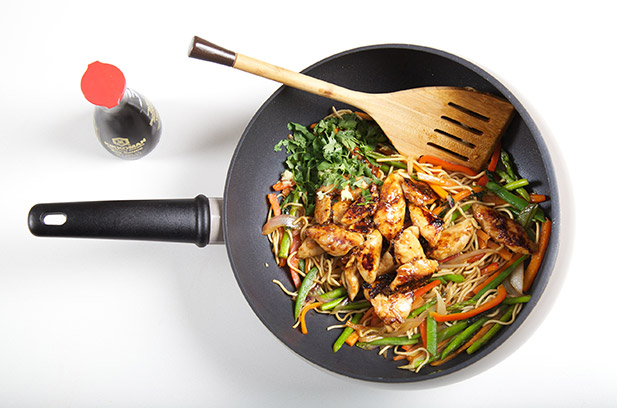 The knife
A good knife is essential in the kitchen but especially so for dim sum because as South China Chef, Hung, says 'When it comes to dim sum, 80% is prep, only 20% is the actual cooking'. This versatile I.O. Shen chef's knife is perfect for an array of tasks from chopping veg to paring meat.
The cooking mesh
And one out of left field… If you're boiling several different things at once in one pot trying to extricate each thing individually or having to replace the water each time is akin to stabbing yourself in the neck with a chopstick. A pain. With the Lékué Cooking Mesh you're saved the hassle. Simply pop the ingredient in the mesh and remove it when you please.
And of course you'll need some chop sticks.
Inspired for some dim-sum-making action? Read all about the cracking team behind South China Dim Sum Bar and give this recipe for chicken and lemongrass wonton soup a spin.
Browse all woks
Browse all steamers
Browse all chef's knives