Enkosi, you guys are awesome
What makes you feel South African? The fact that you were born on a certain side of an invisible line? The amount of time you've spent at Home Affairs? That Mrs Balls and Ouma are more than women to you? When it comes to listing the things that make us feel at home, food is up there and this was what the
Enkosi Cookathon
was all about.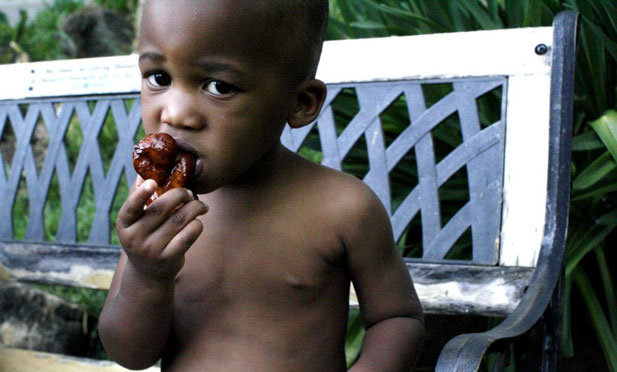 Last year, we held a Community Cookathon and challenged people to cook one of two dishes from Jamie Oliver and send us a picture. For this year's cookathon we brought things closer to home and posted seven quintessentially South African recipes from three Mzanzi food icons, challenging people to get stuck into exploring our nation's diverse range of local flavours (with a chance to win R2,500 worth of kitchen tools for cooking all the dishes).
We were impressed by the number of humans who decided to take part and cook lamb curry, sticky koeksisters, malva pudding, spicy chicken livers, phutu and tomato relish, milk tart and, of course, bobotie, for friends, family and even colleagues at work.
Check out this collage of photos – one from everyone who entered – beautiful, no? Everyone who submitted at least one recipe is going to get a little something from us (we aren't letting on what you're getting, but we hope you love them). Well done everybody.
Moving on to the special souls who got their game on and submitted photos of all seven dishes. The imagination, effort and raw skill that shine through in your entries knocked us for six. We didn't outline specific criteria for the winner but were looking for things like good styling, creativity, the heart and spirit of the cooking, the people gathered to eat the food, effort gone to…
Competition was stiff but through careful examination, thought, discussion and voting at HQ, Claire Sebastio's seven photos and captions emerged victorious as best capturing the magic of cooking and eating South African food with friends and family. Here are her entries:
Bobotie | I really enjoyed cooking this meal for my boyfriend and I. I had never made bobotie before and was really glad I had an excuse to do it. The photo shows me cooking in my kitchen, using my trusty yellow Le Creuset pot.

Lamb Curry | I used my food processor to chop all the vegetables that went into this curry. So glad I did! It took about 10 minutes to do all the preparation. We enjoyed this curry as a picnic lunch on the nearby Melville Koppies with our dog, Molly. It was so great to sit in the sunshine and enjoy the view of all the Jacarandas starting to turn purple, a classic Johannesburg experience.

Malva Pudding | These mini malva puddings were delicious! I ate one (ok, two) with a cup of tea after taking my dog, Molly, for a walk. We got caught in an afternoon thunderstorm (another typical Johannesburg experience), so I was very happy to come home to these. The photo shows me explaining to Molly that, unfortunately for her, malva pudding is people food.

Spicy Chicken Livers | I decided we would eat these spicy chicken livers as an impromptu picnic on our roof so that we could enjoy the view of Joburg town and the Melville Koppies (whilst spying on the neighbours). It was a lot of fun and only one plate got broken while carrying everything up and down the ladder. This dish was by far the easiest to make while still being incredibly flavourful and hard to resist.

Phutu and Relish | Even though I love pap, I had never cooked it myself before. Upon reading the recipe, I suspected the quantities for the phutu pap may be incorrect. I consulted my mother who advised me to follow a ratio of at least 1:4 mielie meal to water. This worked wonderfully and we enjoyed the pap and relish with the compulsory accompaniment of braaied boerewors. The next day we were glad to have the leftovers as sustenance for another quintessential South African experience: the road trip.

Koeksisters | Like a lot of people, I have a reluctance to deep-fry anything (but not a reluctance to eat anything deep-fried). But much to my surprise, these koeksisters were actually quite simple to make and no one suffered any third degree burns while I was making them. I took these to work and shared them with some of my co-workers at a meeting. Everyone was impressed and best of all, a Polish colleague had never had a koeksister before! He declared them, delicious.

Milk Tart | Who doesn't love milk tart? Weirdos, that's who. This recipe was a variation on the one I traditionally use and I enjoyed trying a different recipe. I also set my oven glove on fire while trying to prevent bits of crust from burning on the bottom of my oven! We took this milk tart to my parents' house for dessert. I don't think there is much in this world better than hanging out with your family and eating a delicious piece of milk tart that you made yourself.

Congratulations, Claire, we look forward to sending you some delightful kitchen tools to join that trusty yellow Le Creuset pot. We'd also like to make a few special mentions of some of the other photos and stories that sneaked into our hearts.
Gerhard Wolmarans, the only gentleman to complete all seven dishes and who has a very lucky wife:
The Se7en&1 family, including supermum plus eight wonderful children, who we think are the best thing since bread:
Antoinette Pretorius, whose story of her family's support and love-by-cooking during a critical time really touched us (get well soon, brave lady):
Candice le Noury, Michelle Lillico and Christie-Anne Hendrikz for snapping some of the most beautifully styled photos:
Kate Amm and Cecilia Lehmann for teaching foreign friends a thing or two about our wonderful food culture (Cecilia has the cutest baby boy on planet earth):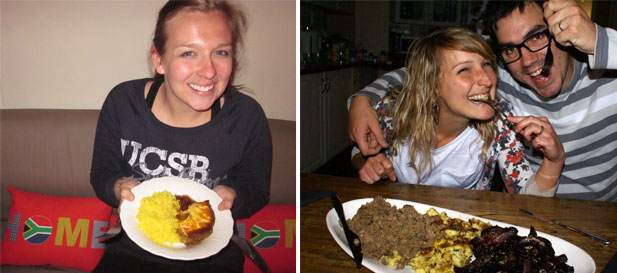 Jessica Franks (aka NomNomCupcake) for making us laugh with her food stories:
"My kitchen injuries this weekend included slicing off part of my thumb, when trying to cut a roll, and rubbing my eye, after cutting a chilli (OMG! I am buying gloves for the next time I use fresh chilli – I thought I was going blind). In order to avoid any other hazardous situations and to reduce calories – I opted to bake instead of deep fry my koeksisters. I was also curious as to what a baked koeksister would taste like.  I made the koeksisters as per the recipe on your site, after I plaited them; I placed them on ice-cream sticks – to make koeksister lollipops!! (And to also make them easy to dunk in the sugar syrup). I baked them in the oven at 180C until they were slightly browned, and dunked them in the syrup as soon as they came out.  The result – a sticky, mostly koeksister, partly scone tasting, easy to eat lollipop treat!"
Carynn Underhill for a seriously beautiful vegetarian entry (do you do food styling? Because you should):
Erin Joy, Peta Wills, Joanne Hutchinson, Tandy Sinclair and Hester van der Merwe for injecting impressive Mzanzi gees in their entries with various South African printed fabric and treats, and last but not least, Jo and Dave Sobey who hid kitchen tools in all of their entries and gave us a little treasure hunt (thanks, guys):
Know that if you were flowers or small chocolate buttons we'd pick each of you. Exploding chicken livers, near death chilli eye-rubbing experiences and some truly poignant moments shared over tasty home cooked food? Good times.
We will be sharing more of the quirky Enkosi Cookathon stories and experiences over the next week, so keep an eye out (and have a peek at the collage, it's glorious). A big thank you to Justin Bonello, Phillippa Cheifitz and Ina Paarman for supplying us with great recipes and for flying the South African food flag high.
We hope to see you all again for the next cookathon, and wish you much happy eating in your holiday kitchens this summer.
Onwards, upwards and to the kitchen.