Dressed up honey and thyme roasted carrots
If you're prone to hosting dinner parties like I am, then you're probably on the look out for foolproof sides to try. Here's a way to dress up the humble carrot with some deliciously crunchy toppings and wow your guests (and yourself).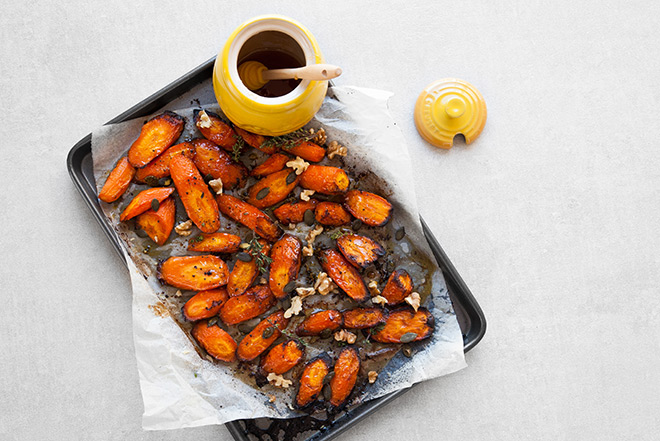 Ingredients:
Prep time: 5 min| Cook time: 35–40 min | Serves: 4–6
1 kg carrots, peeled and cut into chunks
30 ml olive oil
45 ml honey
6 sprigs of thyme
Freshly milled salt and pepper
50 g walnuts, toasted and roughly chopped
25 g pumpkin seeds, toasted
Extra honey for drizzling.
Method:
1. Preheat the oven to 180°C.
2. Spread the carrots out evenly onto a lined baking tray and drizzle them with olive oil and honey. Give them a good shake to ensure the carrots are well coated.
3. Sprinkle with thyme and season with salt and pepper.
4. Roast for 35–40 minutes. Be sure to toss the carrots around halfway through the cooking time.
Sprinkle the roasted carrots with toasted walnuts, pumpkin seeds and a bit more honey before dishing them up.
Feel free to share this recipe with friends that you think will enjoy it. We've got loads more waiting in the wings.