A bounty of cupcake recipes
Life is filled with big and serious decisions. Every now and then though, it helps to appreciate the little, whimsical things. Lady bugs, baby naartjie segments, puppies and perfect snowflakes are all tiny marvels that captivate the now, even if it's only momentarily. Cupcakes fall into the category of small and simple joys. Here's our collection of reliable cupcake recipes and tips to perfect these miniature bites of cake. Life could do with more cupcakes.
The science behind cupcakes
Those of us who know how much work is put into creating these miniature, delectable cakes will know that concocting a recipe to call your own is no small feat. With three simple rules, the door to endless cupcake-happiness can be unlocked.
Red Velvet cupcakes
Meet the champion of cupcakes, sitting in a league of its own. Whether it's the deep red cake or the tart cream cheese icing, one thing is for sure, it'll take a miracle to topple the red velvet cupcake from her regal thrown. Bake it and join the cupcake cavalry.
Maple and bacon French toast cupcakes
French toast, bacon, maple syrup AND a cupcake? This may sound like a lot to digest, but after you've wrapped your head around this cupcake's awesomeness, dive right in and start preparing your very own cream cheese-topped little balls of heaven.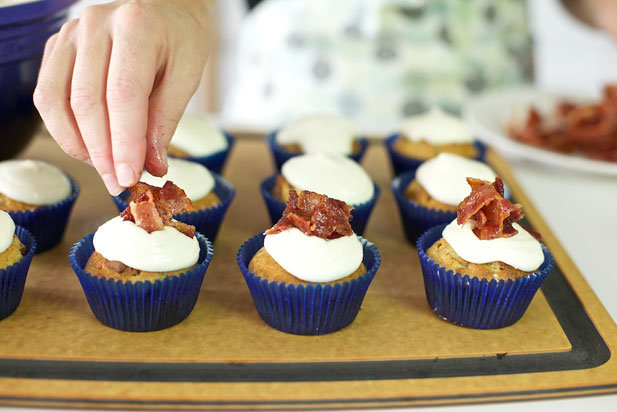 Double chocolate cupcakes
A double chocolate cupcake recipe so easy, we even had our Minichef kids try this one out. With chocolate chips inside and out, it's hard to see fault with these decadent delights. So simple, we're wondering why you haven't yet started?
A giant cupcake
Even though the humble cupcake seems to taste better than a slice of cake, it still doesn't hurt to scale them up a bit. Let us introduce you to the Giant Cupcake. This cupcake can be made the simple, but still delicious way or the mysterious piñata way. It's a cake and a great party trick all in one. See for yourself!
Lemon meringue cupcakes
If lemon meringue is your thing, we guarantee you'll love these sunny delights, made with real lemon curd. If it's not, we're still pretty certain you'll find a special place for them in your heart. Serve with your favourite cup of tea and you have yourself a spread fit for royalty.
Strawberry and vanilla cupcakes
Can't decide between your favourite icing flavour? Have both. With the Split Compartment Icing bag by Cupcake Creations you can pipe a tasty duo of your favourite colours and flavours. Strawberry and vanilla cupcakes for any tea party? We think so.
Popping candy cupcakes
Vanilla cupcakes are the loveliest thing but if you think they're too vanilla, add a sprinkle of popping candy to turn these cakey bites into a party in your mouth. Popping candy cupcakes just became a thing.
Top Deck cupcakes
When it comes to deciding between milk chocolate and white chocolate cupcakes, we decide not to. Meet the top deck cupcake and its wonderful ability to marry all those on either side of the chocolate fence.
How to make a piñata cupcake
Want a cupcake filled with even more surprises? Fill it with treats. Here's how to make a piñata cupcake that will leave adults and children, birthday or no birthday, filled with delight.
Inspired to get baking? We hope so.