Easy weeknight winner: coconut and lemongrass chicken bake
This easy weeknight recipe has been created with the busy mum in mind. You may already have these ingredients, you probably have the right casserole dish in which to whack them all in, and you may well need a hearty meal to serve up to your family in 45 minutes with absolutely no fuss. Quick, easy and impressive, this one-dish chicken bake is a keeper.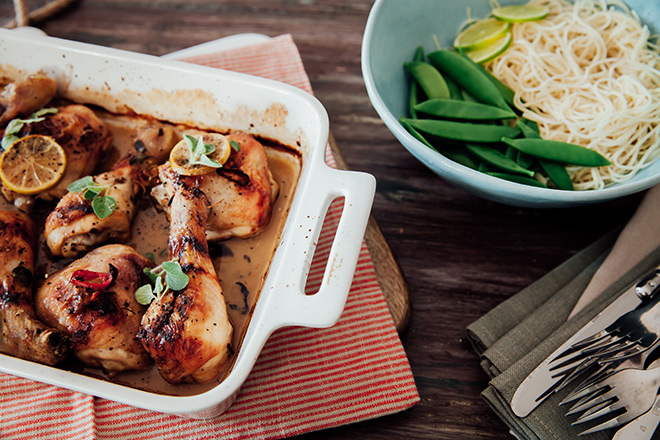 Ingredients
Prep time: 10 min | Cooking time: 45 min | Serves 4
8 chicken pieces, bone on
250 g/ 1 cup coconut cream
1 lemongrass stalk, thinly sliced
1 small red chilli, thinly sliced (go easy on the chilli if serving to your kids).
1 lime, cut into rounds
2 Tbsp honey
2 Tbsp soya sauce
Salt and black pepper to season
250 g egg noodles
200 g mange tout
Method
1. Preheat the oven to 180°c.
2. Place the chicken pieces into an oven-proof casserole dish. Top with coconut cream, lemongrass, chilli and lime rounds. Drizzle over the honey and soya sauce and season.
4. Bake for 45 minutes, until the chicken is golden and cooked through.
5. Five minutes before the chicken comes out of the oven, prepare the noodles and mange tout. Place the noodles into a glass bowl, pour over boiling water and set aside for 3–4 minutes. Drain. Blanch the mange tout in salted boiling water.
Pour yourself a glass of wine, call the family to the table and serve.
Looking for more easy recipes to shake-up the way you cook? Sign up to our newsletter and more recipes like this will find their way from our table to yours.