Christmas presents with a little thought
Still searching for cracking gifts for your special people? We've done a little head scratching and put together these nifty Christmas gift ideas. Kitchen tool pairings and homemade foodie goodies – we sure hope they bring you cheer on Christmas morning. Ho ho ho.
1. Salt pig and Falk Salt
This rather handsome Le Creuset Salt Pig, available in five rather jolly colours, works a dream when paired with any one of our Falk Salt range. Choose between red chilli, smoked, garlic, black, natural or citron for food sprinkled with heavenly flavour.
2. Wine and wine aerator
Just like you, wine needs to breathe. Give the gift of great wine all year round with the Nicholas Collection VinOair Wine Aerator. Aerator, drip stopper and pourer, all you need to appreciate a good bottle and fine company.
3. Boska Cheese Board and Knife Set with extra cheese, please
Two chalkboard-labelled, triangular boards and knives paired with some of your favourite cheeses make this a nifty gift. Seriously, who doesn't love cheese?
4. Biltong, board and knife
This one's for the Dads. Biltong rarely fails to delight a South African carnivore and with a Laid Back Company Paddle Board and Wusthof Utility Knife, you'll be giving a gift that keeps on giving. Oh yes, life with a Wusthof is sharper.
5. Barrett's Ridge Bear Bread and Loaf Tin
Turn your loved one into a baker this Season of Jolly. With Barrett's Ridge, it's easy. All you need is a beer and a loaf tin – simply mix and bake. A clever gift for the happy campers in your life.
6. Kinto mugs and NoMU hot chocolate
Dreaming of a white Christmas? Well here it is in the form of two Kinto Couture Knit or Lace Double Wall Cups and NoMU's Decadent Hot Chocolate. Oh for a skiing chalet in Switzerland. Yodele he hoo.
7. Brownie mix
Know someone with a sweet tooth? Make them a batch of brownie mix in a Kitchen Craft Preserve Jar and when they need a sweet fix, all they need to do is add butter and eggs for freshly baked chocolate goodness. Here's the brownie mix recipe.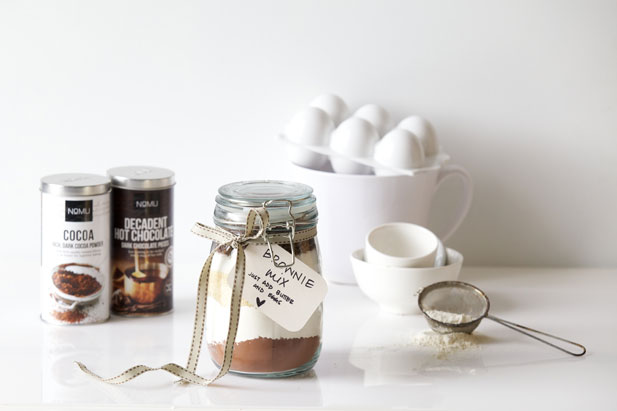 8. Joie de Vivre box filled with goodies
Made from beautifully weathered oak, this Joie De Vivre Handy Box is just waiting to be filled with homemade jams, spiced nuts and other delectable goodies for your special person. Browse our full pantry range for filling ideas.
9. Cookies, a book and the Eva Solo Deli Jar
You decide where you want to take this one. Fill the Eva Solo Deli Jar with the Hummingbird Bakery's white chocolate and cranberry cookies and package with the Hummingbird book, Cake Days. What a tip top gift. Or fill the jar with granola, nuts or anything your heart desires.
Sparked any jolly ideas? We hope so.
Walk this way for more Christmas gift ideas. Happy days.