Possibly the best ham you have ever tasted
Ham's invited to almost every Christmas menu party but not all ham is made equal. Is it possible for a ham to be truly exceptional? Yessir. This is no ordinary ham, we can promise you that. With a chilli kick, a sweet apricot glaze and served with a tangy homemade basil mayonnaise, it could well be the shining star of your festive table and certainly your leftovers after the big day. Tasty tidings to you all.
Ingredients (Serves 8–10):
For the ham
1 gammon ham (bone in or out, the cooking time will vary)
3 onions, cut into chunks
Cloves, to stud
For the glaze
1 jar apricot jam (We used Chaloner Apricot Jam)
Juice of 2 lemons
3 Tbsp soy sauce
2 chillies, de-seeded and sliced
For the basil mayonnaise
Read up on how to make your own homemade mayonnaise and add a big handful of basil to this tangy recipe.
Method:
1. Preheat the oven to 180ºC. Place the ham in a large roasting tin and pour over about 600ml water. Place the chunks of onion around the ham.
2. Cover with greaseproof paper and then cover with foil. Make sure you leave some space around the ham but secure the edges of the paper and foil to the roasting tin.
3. Place in the oven, reduce temperature to 160ºC and cook according to weight — you will need to cook for approximately 25 minutes per 450g.
4. Mix together the glaze ingredients and allow to simmer on a low heat for 10 minutes. Remove from the heat and cover.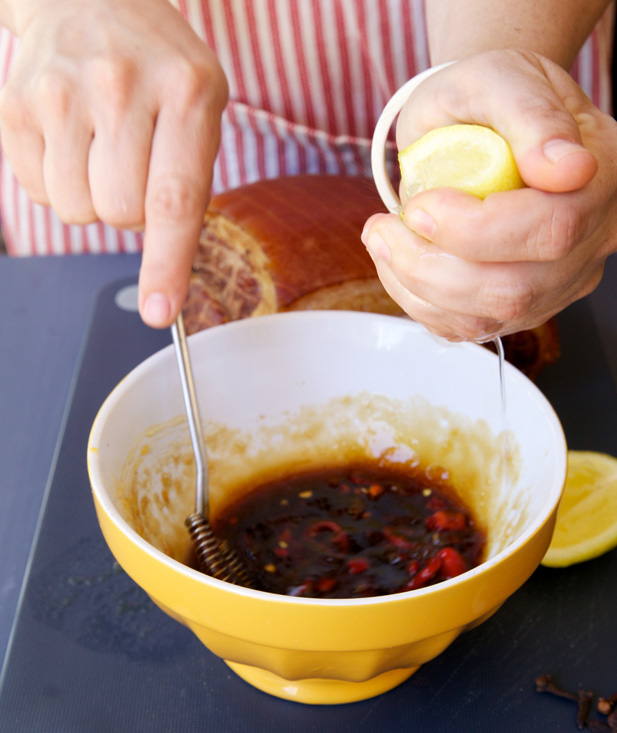 5. Remove the ham from the oven and take off the foil (be careful of the steam). Drain the juice off into another bowl to be used as pork stock for soups and gravy and keep the ham in the roasting tray.
6. Turn the oven up to 220ºC.
7. Allow the ham to cool for about 15-20 minutes, then slowly peel off the skin. Try to keep as much of the fat on the ham as possible. Using a sharp knife, score the fat almost down to the meat but not quite, into diamond shapes. Pop a clove in each diamond.
8. Pour over the glaze you mixed earlier and place back in the oven for 45 minutes to an hour, or until the fat has turned golden brown and crispy.
Serve with a basil mayonnaise for a little extra pizazz.
Let us know how you get on. We'd love to see your festive cooking adventures.
Also cooking a turkey? Why not give it a go on the Weber.
Try this spectacular mince pie ice cream.