Christmas gift ideas
The fairy lights are being unknotted and the tinsel is up in all of the shops. Time to scratch those heads and have a think about what the family would love to unwrap under the tree this year. To help you along, we've put together a whopper of
Christmas gift ideas
 as inspiration. You know their special weakness, we'll know what will float their gravy boats. Best bit? All of these special gifts are delivered free to your door so you don't even have to hit the mall.
For the baker
A baker's heart is so easy to delight. Anyone of these cake-making, sweet-treat-baking goodies will certainly sprinkle some icing on their season of jolly and there are more baking gift ideas that may well be what your flour-loving friends have always dreamed of.
1. KitchenAid Artisan Stand Mixer
2. Yuppiechef Letterpress Cookie Cutter Set
3. Le Creuset Stoneware Batter Bowl
4. Sweetly Does It Silicone Cake Pop Pan
5. ADE Luisa Mechanical Kitchen Scale
For the coffee and tea lover
For those who cherish their favourite, warm brew, why not steam up their season with one of these little luxuries? From café au lait to a hot pot of oolong, we've got a host of coffee and tea gift ideas to make your friends sing.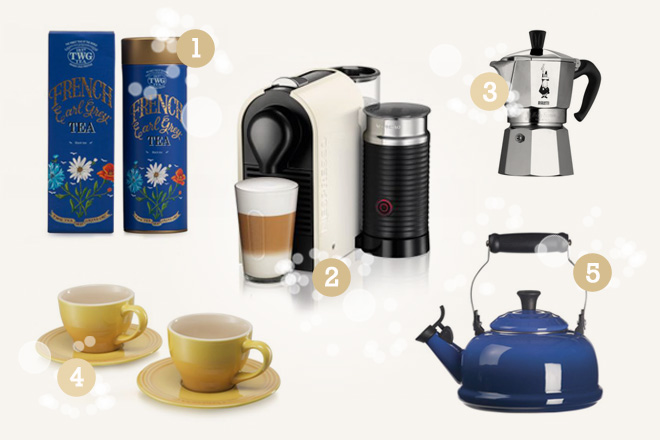 1. TWG Tea French Earl Grey
2. Nespresso Umilk Automatic Espresso Machine
3. Bialetti Moka Express Espresso Maker
4. Le Creuset Cappuccino Cups and Saucers
5. Le Creuset Whistling Stovetop Kettle
Bar and wine
Anyone who appreciates some classic craft beer or a virtuous vino will bubble over with joy if you add one of these fine choices into the gifting mix. Got a friend who has it all? Something from our bar and wine gift selection could hold the answer.
1. League of Beers Monthly Mixed Case
2. Overgaauw Sauvignon Blanc
3. Mode Fridge Monkey
4. Riedel Overture Beer Glass Set
5. CorkPops Wine Bottle Opener
For the keen cook
For the budding chef in your life, there's nothing better than that one classic item to re-inspire their culinary desire. Cooking for a crowd can be daunting but they will invite you over and over again just to put their new kitchen companion to the test. Check out these gift ideas for the keen cook.
1. Le Creuset Cast Iron Cocotte
2. Yuppiechef Bamboo Chopping Board
3. Wusthof Classic Chef's Knife
4. Kitchen Craft Pizza Stone Set
5. Kenwood kMix Hand Blender
Books for cooks
For those of you with that special someone who gets lost in new recipe endeavours and just loves to learn, what about giving them some inspiration this season with a beautiful cookbook?

1. Seasons by Donna Hay
2. Little Paris Kitchen by Rachel Khoo
3. What Katie Ate by Katie Quinn Davies
4. Food From The Heart by Alida Ryder
5. Cooking with Jane Hornby Gift Special
Gifts from our pantry
Do you know what's great about getting gifts for people who love food? You simply can't go wrong with a top notch pantry item. Something for their sweet tooth, a new exciting product to try – either one will tingle their palate so why not browse our pantry gift ideas for a prezzie that won't go to waste.
1. Barrett's Ridge Beer Bread Kit
2. The Treat Company Sweets
3. Jean Brunet Pâtés
4. Leo Foods Biscuits and Biscotti
5. Prince Albert Extra Virgin Olive Oil Karoo Blend
For the entertainer
They've no doubt thrown countless parties and fancy soirées. For that pal who just loves to bring together great company, keeping you all stylishly fed and well watered, why not give a little something to help them up their entertaining ante? Some mood lighting or a platter? Have a wander through our gift ideas for the entertainer.
1. Eva Solo Hurricane Lamp
2. Eva Solo Drip Free Fridge Carafe
3. Boska Cheese Board and Knife Set
4. Joie de Vivre Large Paddle Board
5. Kitchen Craft Clear Acrylic Double Sided Wine Bucket
For the kids
These happy goodies will tickle little ones pink. Give the tiny folk some magic this Christmas with gifts for kids that remind them to play, be cheerful and experience the fun in food.
1. Kitchen Craft Star Shaped Cookie Cutter Set
2. Kitchen Craft Pig Snout Plastic Kiddies Cup
3. Zoku Large Slow Pop Freeze Mould
4. Le Creuset Junior Cake Baking Set
5. Mash the Monkey
We hope we've eased some of the festive flurry and that you'll find plenty to make your loved ones happy in our christmas gift ideas selection.
Don't get snowed under the gift-giving malarkey this year, just grab those snow goggles and glide through it all like an online shopping champ! After all, making people happy is what it's all about. Falalalala la la la la.
Happy festive season, folks.