Cheese and wine and all things fine
We don't know about you but we love cheese. All kinds. Fresh and light or ripe and stinky – we don't discriminate. So if you're on the same page as us, then p
our yourself a glass of wine and take a look at this round-up of cheesy recipes and know-how. And don't forget the golden rule: when in doubt, just add cheese.
Easy blue cheese soufflé
They're light and delicious – who isn't a fan of the soufflé? We tackled this savoury blue cheese soufflé and, boy, was it grand. If we can do it, you can too. It is well worth the effort when it's time to tuck in. This soufflé goes down best when served with a little glass of port – we like the De Krans pink port and the more traditional Vintage Port from Overgaauw.
Baked camembert
So you have guests coming over and you're looking for a gourmet snack? Look no further. This gooey baked camembert served with crispy baguette slices is a sure-fire winner. We paired this a glass of sweet Fairview La Beryl Blanc Straw Wine. Divine.
Three cheese and tomato quiche
A farm-style recipe at heart, this three cheese quiche is bursting with cheesy goodness. It's not very often you get to have cheddar, Brie and Parmesan in one delightful dish. Serve with a glass of MCC to cleanse the palate of all that cheesiness.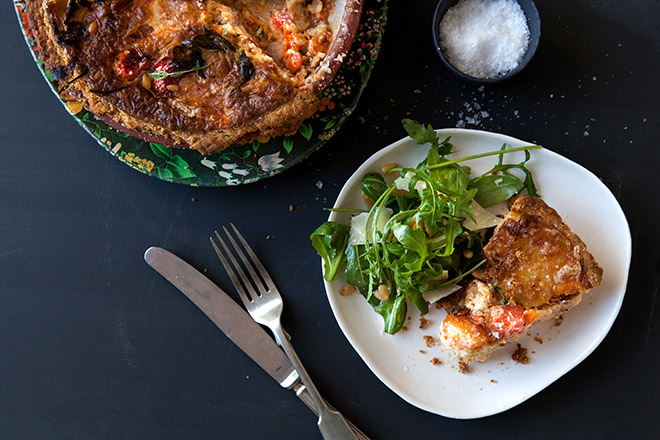 Raclette
If you are hungry for a cheese feast, then a raclette is the way to go. Three cheers for the Swiss for making oozing, melted cheese an acceptable dinner option. We made these cured ham and mozzarella skewers on the raclette. Neat, hey? Raclette goes well with the bright freshness characteristic in Riesling – we like this Fairview Darling Riesling.
If you are interested in cheese and all its delicious forms, here are 5 neat things you never knew about cheese. You might also want to learn how to pair cheese with wine. And if that's not enough, how about how to choose the perfect cheese for a platter?
May there be many cheesy meals ahead of you, folks.