3 champagne cocktails that put the fizz in festivities
If there's one thing we know to be true; it's that no matter the question, champagne is almost always the answer. Terrible twos? Champagne. Promotion? Champagne. Another candle on the birthday cake? Champagne (and perhaps a tall glass of denial). Over the festive season, you don't even need a reason and the answer is Champagne. Add some pizzazz to your next glass of fizz with these mega impressive Champagne cocktails.
You can of course cheerfully substitute the champers in these recipes with your preferred bubbly, be it prosecco or MCC.
Make some frozen grapes
They're aplenty this season and truth be told, a frozen grape tastes kind of like a little pop of ice cream. What a treat.
Ingredients
Prep time: 10–20 mins |Freeze time: ± 1 hour| Serves: 4
1 punnet grapes, half sliced and half kept whole
Your favourite Champagne
Method:
1. Pop the grapes in the freezer for at least 1 hour until they are slightly frozen.
2. Once frozen, place a few grapes in each glass and top with champagne.
Raspberry Kir Royale
Here's the fruity alternative to the popular French aperitif with a dashing pop of festive colour.
Ingredients
Prep time: 5–10 mins | Serves: 4
Crème de Cassis (blackcurrant liqueur)
Your favourite Champagne
Raspebrries to serve
Method:
1. Place 1 teaspoon of Crème de Cassis in each glass.
2. Top up with your champagne and serve with a smattering of raspberries.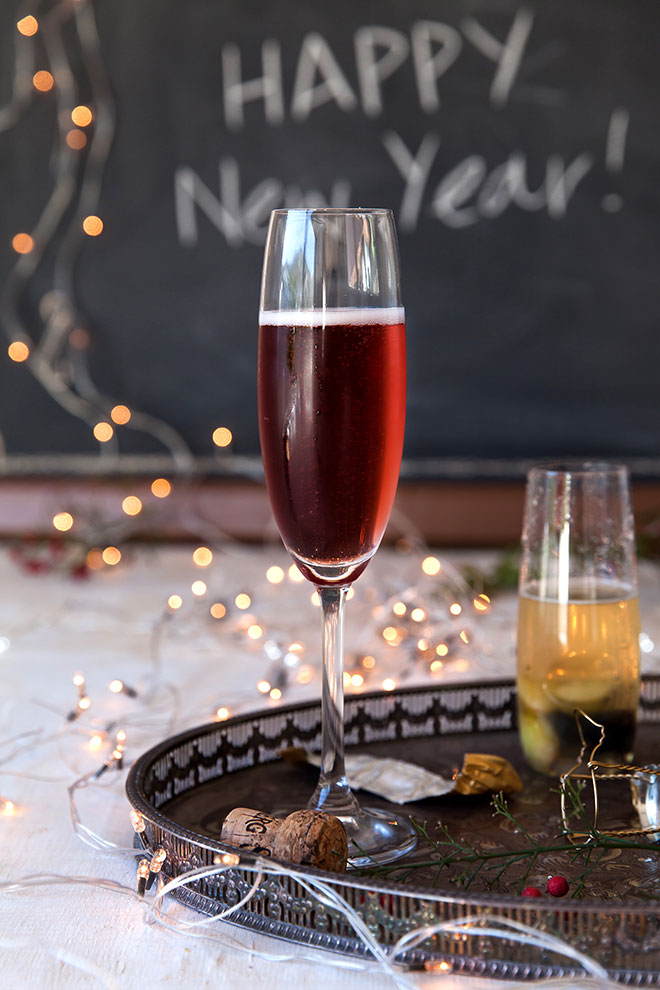 Just peachy
A bit of peachy pizzazz never hurt and this one, amped up with a tipple of gin or Cointreau will really get the party going. Hooplah.
Ingredients
Prep time: 10–20 mins | Serves: 4
1 peach or nectarine, diced
2 Tbsp gin or Cointreau
1 Tbsp castor sugar
Your favourite Champagne
Method:
1. Mix the diced peach with the gin or Cointreau and sugar. Allow it to marinate for 10–15 minutes.
2. Pour the champagne into each glass, top with more diced peaches and serve immediately.
Whether you're hosting a boozy breakfast or an evening soirée, these recipes are hands down the way to go in terms of drinks.  
They say 'too much of anything is bad, but too much champagne is just right'. Whoever 'they' are, we raise our champagne-filled glasses in agreement!