Complete guide to budgeting for your wedding day
I've been in the event styling and planning industry for just over a decade now, with the last two years solely dedicated to floral and decor styling for the wedding industry and I've come to realise that budgeting for the big day is a constant hurdle most brides face when planning their dream day.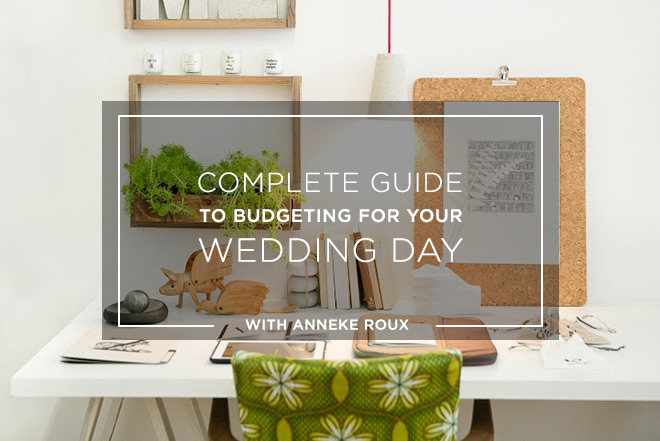 Naturally, it's enticing to begin with the fun aspects like hunting down a venue, picking your colour scheme, selecting beautiful flowers or your dreamy gown. This is often why most brides get way ahead of themselves before jotting down the facts and figures that will later be such a vital element to the rest of the planning process. Setting down financial boundaries from the get-go will serve as a solid foundation, leaving room for all the enjoyable stuff without any anxiety about overspending your budget. With a few tips and practical aspects to consider, here are my overall guidelines to budgeting for your wedding.
Planning your dream wedding doesn't have to be a stressful experience. No matter how big or small, glamorous or casual the occasion, these few key decisions will help you establish a planning foundation before you start picking flowers and trying on dresses.
1. Your overall budget for the wedding
When it comes to setting out a realistic budget for your wedding, it's best of have the 'difficult discussion' of money matters with your parents, in-laws and fiancé before you start planning. That way you can quickly calculate an overall estimate of what you have to work with.
2. The season and time of the year
Tying the knot during the colder, winter months will prove to be more economical. Why? Most brides tend to opt for a summer wedding and thus during the 'low season', when the wedding rush is over, you will most likely pay a lower venue hiring rate and also get hearty discounts on labour costs from your florist, DJ, photographer and even caterers.
3. Location of the wedding
Your wedding's location will play a big part in how much of your budget you are spending on this. A destination wedding? A winelands or seaside wedding? When planning a destination wedding, consider the exchange rate as well as additional travelling and accommodation expenses you or your guests will have to cover.
As part of the location hunting process, make comparative lists of what you will need to hire in addition to what your venue can supply, ie. tables, chairs, cutlery, additional lighting etc. These costs quickly add up and booking a venue that includes the items above will save you a great deal.
Remember, a remote location will result in much higher transportation fees if your suppliers are based in the CBD.
4. The amount of guests
It's advisable to draw up a list of guests you and your fiancé want to invite to your wedding right from the start. Having an estimated guest count will affect more than just your potential venue options. Table flowers and decor, guest gifts, stationery as well as your catering and bar expenses are all directly affected by the 'per head' amount of guests you plan to invite.
Why budgeting from the start is important:
It gives you a solid starting point, direction and a framework to work within
It will give you a more realistic expectation of the wedding and the amount of detail needed
It will assist you in choosing between- and narrowing down supplier quotations
Approaching suppliers with a given budget will save time, eliminating a lot of 'back and forth' quoting as suppliers will be able to suggest the do-able options to you from the start
1. Research
Doing research might be time consuming but it's well worth the effort. You can get rough estimates of what an average wedding will cost by:
Surfing the internet and supplier websites (The Pretty Blog | SA Weddings | Celebration | The Little Pink Book)
Asking friends and family, who recently got married, what they have spent as an estimate
Obtaining price lists and packages from industry suppliers
Consulting a coordinator or planner to map out your budget and a list of suggested suppliers to approach
2. Determine your overall budget
As highlighted above, it's crucial to determine the total budget you have available for the wedding right from the start. Remember to work a 10 – 20 % "buffer" into your budget as you might have a few forgotten or last minute 'must haves' that will push you over your initial budget.
3. Write down a wish list
Write down a list (in order of importance) of what will be a crucial contribution to your dream wedding day. Decide which aspects will be most important to you and prioritise the rest of your 'wish list' accordingly. For example; gourmet food, a romantic ambience and a jampacked dance floor.
Based on your wish list, compile a top 3 list of suppliers that you don't mind splurging on, be it a well known chef or caterer, popular band or notorious dress designer.
In my experience, most brides tend to prioritise the following as must haves on their wish list:
A striking venue
Reputable photographer
Good caterer
4. Draw up a budget sheet
Based on your overall budget amount, research results and supplier wish list, you can now draw up a budget sheet allocating a percentage amount to each supplier. See the below example of a wedding budget of 200K.
Wedding essentials:
Venue 15% (30K)
Catering 20% (ie. 40K)
Photographer 10% (ie. 20K)
Videographer 8% (ie. 16K)
Flowers, decor, lighting 12% (ie. 24 K)
Bar 5% (ie. 10K)
Stationery 2.5% (ie. 5K)
Bridal retinue 10% (ie. 20K)
Entertainment 5% (ie. 10K)
Wedding Cake 2.5% (ie. 5K)
Buffer for extras 10% (ie 20K)
Additional 'luxury' extra's to consider  (this will have to be worked into your budget by spending less on other suppliers or increasing your budget total)
A wedding coordinator  (10 – 15%)
Photo booth 2.5% of budget (around 5K)
Coffee bar 2.5% of budget ( around 5 – 6K)
Don't forget to consider industry standards
Considering that you might have a higher or lower total budget, remember that certain costs, such as your venue, photographer and menu will have a fixed minimum cost involved and therefore influence the percentage ratio to some extent. For example: A venue hire fee of 45K will be 30 % of a 150K budget, but take up a 45% chunk out of a 100K budget and you'd have to either opt for a different venue or cut on other supplier costs.
If all of this is a little overwhelming or you simply can't make ends meet and have everything you desire for your dream wedding – consider these areas for cutting down your budget:
Limit your guest list: This will definitely save you on catering, bar and decor costs
Choose your venue wisely: Choose a venue that includes most of your required furniture, breakware and facilities.
Involve your family, friends and network to assist with smaller extras ie. the wedding car, stationery, wedding website, even wedding cake
Tie the knot in the low season: you'll be likely to get supplier discounts and 'low season' rates.

Determining your wedding budget is a crucial first step with many fun and creative planning moments to follow. Not forgetting, there is one part of this enticing engagement adventure that doesn't involve counting your pennies. Your registry.
With Yuppiechef's Wedding Registry service, you can allow your loved ones to help kit out your new home with the essentials you need, love and will use for years and years to come, so if done correctly you shouldn't have to spend too much more money on your home after the wedding.
1st image credits: photographer Claudia De Nobrega, styled by AnnaH for Kamers 2014 summer catalogue.