Best menus for hosting a great party
When it comes to hosting memorable parties, consider the food you're serving; it sets the tone. A three course, sit down dinner might not be the best way to get unacquainted guests mingling, but a generous tapas spread will have people socialising quicker than you can light the candles. Here are our best menus for hosting a great shindig.
Put your trust in a tapas party
Tapas is a great way of serving up some substantial food without having to toil over the stove for hours. The idea here is an amazing variety of flavours spread over many smaller dishes. This is the kind of menu where you can happily ask everyone to bring one tapas dish and then mix and share when they get there. All that's left to do is keep those glasses topped up. Here are some ideas.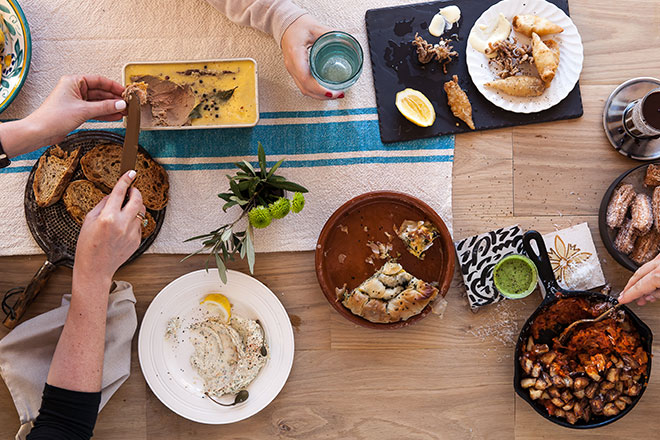 Champagne and canapés
Not every great party requires heaps and heaps of food. Over catering can kill the vibe too. If what you're hoping for is a bit of a razzle as the sun goes down, over feeding your guests could leave them chilling on bean bags with the 'maagies vol – oegies toe' (or fat puppy) syndrome. Canapés keep the eating light and the mingling to the max. Your only (very taxing) job as the host/hostess is to keep a bottle of champers close by. Tough times.
Beer and braai
With a climate like ours, we are lucky to be able to have braais until they are literally coming out of our ears. The trick with a good braai is to make everything fire ready; your veggies, fruit skewers and the braaibroodjies (arguably the most important part of the braai?). The last place you want to be when Sweet Caroline is cranking is in the kitchen making the green salad. Add a case of craft beer and you're golden.
Pizza and flatbreads
Not only is pizza one of our great social conduits, especially if you put out a spread of toppings and get everyone to dig in and make their own combos, but you can have hours of good conversation on the dos and taboos of eating pizza with a knife and fork. We know you're out there.
Cheese it up with raclette
If you still want to do more of a sit down ensemble, raclette is how you keep the social buzz going. All the prep happens beforehand, and that's a walk in the park if you have a good knife at hand. Cover the table in some beautiful reds and let the merriment unfold naturally as your guests cook their own food. Covered in cheesy goodness, of course. When shall we come round?
We hope one of these menus inspires you to host a bounty of festive get togethers this season, without leaving you in desperate need of a holiday. Entertaining should be fun. It's the season for enjoying your own parties, we say.