Baked camembert topped with sundried tomatoes paired with the Warwick First Lady Chardonnay
Baked camembert hardly needs introduction but if you're looking for the perfect partner in crime, Warwick's First Lady Chardonnay is it. With fresh and fruity pineapple, lemon, citrus and floral notes this wine compliments the trickling cheese and sundried tomatoes, almonds and greens perfectly. It's practically a party on the palate.
Make sure that the tinfoil is securely wrapped around the cheese when it bakes, just in case it decides to start oozing out.  Also keep it simple by running your knife over the toppings to roughly chop them, and to save some time with a moment of multitasking while you're chopping, cut a few pieces of ciabatta bread and throw them in the oven 5 minutes before the cheese is done to create a crispy vehicle for the camembert.
Ingredients:
Prep: 10 mins | Cook: 20 mins | Makes: 1 x large camembert wheel
1 large wheel of camembert cheese
15 ml thyme leaves
45 ml olive oil
Freshly ground salt and pepper
50 g roasted and salted almonds, roughly chopped
100 g sundried tomatoes, roughly chopped
A handful of micro salad leaves
1 sliced bruschetta, toasted (optional)
Method:
1. Preheat the oven to 180°C.
2. Wrap the edges of the camembert in foil
3. Sprinkle with thyme, salt and pepper and drizzle with olive oil
4. Bake for 20 minutes, until the camembert is runny in the centre.
5. Remove the foil, and serve the camembert topped with the sundried tomatoes, almonds and micro salad leaves.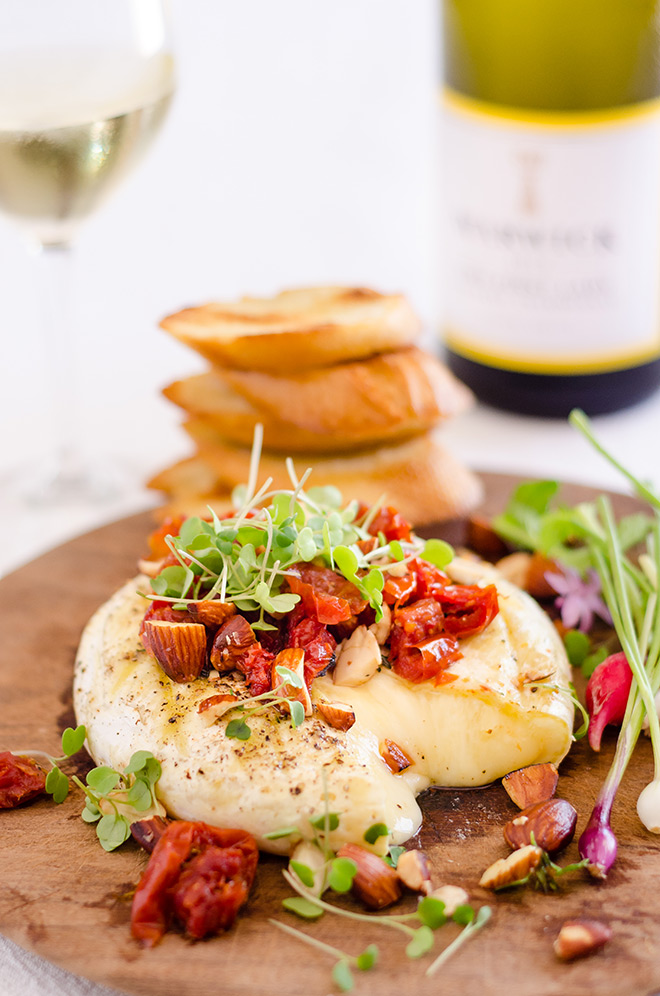 Best enjoyed warm from the oven with toasted bruschetta slices.
Recipe compliments of Warwick Wines.