Sarah Graham's baby spinach, pea and chorizo salad
When it comes to salads, super easy but extra tasty seems to be the magical combination one seeks to achieve. Thankfully, Sarah Graham's new book,
Smitten
, happens to have just the recipe we've been looking for. Here is Sarah's baby spinach, pea and chorizo salad. It's a gem for sure.
"This salad is quick-quick and oh so pretty. I love the punchiness of the colours, the smoky-spiciness of the chorizo and the burst of freshness from the greens. Serve as a meal in itself, over couscous or pasta, or inside warm crispy pitas. You can also add in some crumbled feta, goat's cheese or even ricotta."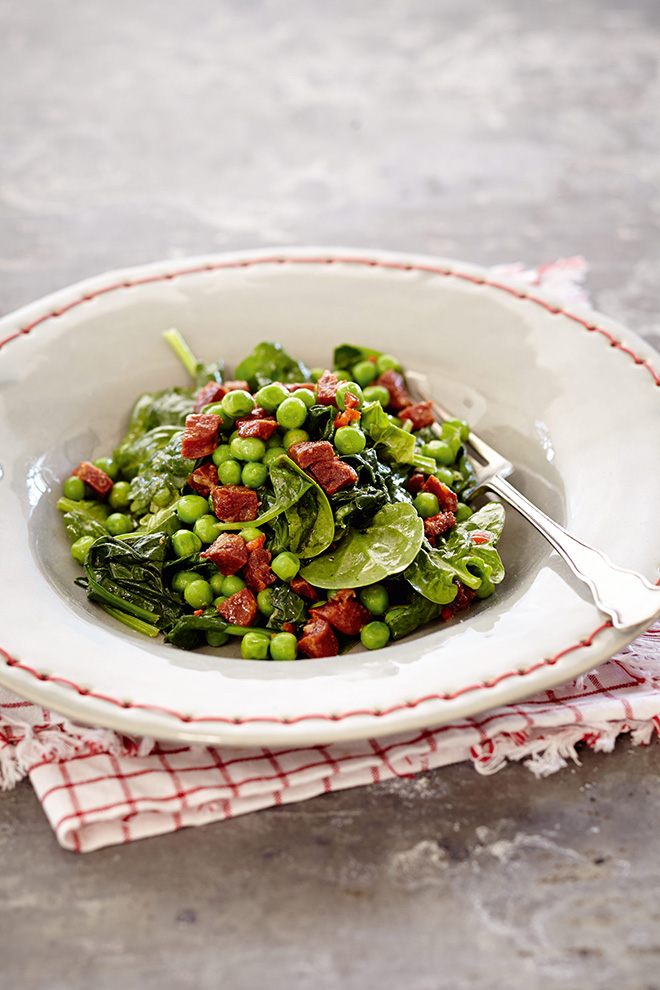 Ingredients:
Serves 2 | Prep time 10 min | Cooking time 5 minutes |
75 g chorizo sausage, roughly sliced and quartered
½ red chilli, deseeded and roughly chopped (optional)
1 cup frozen peas
50 g baby spinach
Salt and freshly ground black pepper
For the mustard dressing:
½ tsp Dijon mustard
1 Tbsp olive oil
1 Tbsp lemon juice
1 tsp lemon zest
1 tsp honey or ¼ tsp sugar (substitute with agave or xylitol for Banting diets)
Pinch of salt
Double ingredients to serve 4
Method:
1. Heat a heavy-based frying pan over medium-high heat and fry the chorizo for about 4 minutes until light golden. Add the chilli and fry for another minute. Remove the chorizo from the pan with a slotted spoon and set aside on a plate lined with paper towel.
2. Half-fill a medium-sized saucepan with hot water and bring to the boil. When boiling, add the peas and cook for 2 minutes. Remove from the heat, drain and add the spinach leaves so that they wilt just a little. Add the peas and spinach to a serving bowl along with the chorizo.
3. Whisk the ingredients for the mustard dressing in a small bowl, then pour over the salad and gently toss to coat.
Et voilà. Season with salt and pepper and serve immediately.
For more recipes like this, get your copy of Smitten by Sarah Graham.