Apple and summer berry galette with Chantilly cream
This recipe for an apple and summer berry galette is so worth having at your fingertips. It's super flexible so can be adapted depending on what fruit is in season and it can be made to look as rustic or as fancy as you like. Like a blank canvas, there's a lot of fun (and baking therapy) to be had here.
I've seen quite a few galettes popping up on my Instagram feed over the last few months so it's clearly catching on. This is one of those impressive (but so easy) desserts to make with a not-so-fancy thing about it too. Dollop on the cream and enjoy it with a cup of tea or champagne in hand.
Ingredients:
Prep time: 15 minutes | Chill time: 2 hours | Baking time: 30 min | Makes: 1 medium galette  | Serves: 6

For the pastry dough
250 ml cake flour
30 ml (2 Tbsp) castor sugar
Pinch of salt
90 g chilled salted butter, cut into blocks
1 large egg, beaten
2.5 ml (½ tsp) vanilla paste
15 ml ice cold water
For the filling
4 pink lady apples, cored, halved and very thinly sliced
50 g blueberries
100 g raspberries
15 ml (1 Tbsp) lemon juice
2.5 ml (½ tsp) vanilla paste
5 ml (1 tsp) corn flour
45 ml (3 Tbsp) brown sugar
For the topping
1 egg, beaten
30 ml (2 Tbsp) brown sugar
To serve
Extra fresh berries, for garnishing
Icing sugar for sprinkling
Chantilly cream (lightly whipped cream, flavoured with sugar and vanilla to taste)
Method:
1. To make the dough, sift the flour, sugar and salt and place into a food processor together with the butter. Blitz until the mixture resembles fine breadcrumbs.
2. Mix the egg, vanilla and water together and add the mixture to the food processor. Blitz for a few seconds or until it comes together to form a soft dough.
3. With floured hands, shape into a ball and flatten slightly. Wrap in cling film. Chill for at least 2 hours. If you can do this the day before – even better!

4. Preheat the oven to 180°C.
5. Sprinkle a large sheet of baking paper with cake flour, place the dough on top of it and roll out to form a circle. It should be about ½ a cm thick. Transfer onto a large baking tray.
6. To make the filling, gently mix the sliced apples, berries, lemon juice, vanilla paste, corn flour and sugar in a large bowl until evenly combined.
7. Arrange the sliced apples and berry mixture (as sophisticated or as rustic as you wish), in the centre of the rolled out dough, being mindful to leave a ± 5 cm border around the fruit.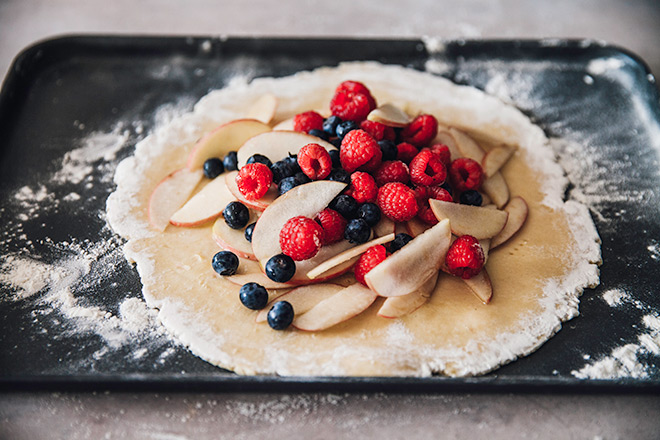 8. Fold the edges over the filling – again, as neat or as 'rustic' as you like.
9. Brush the exposed dough with egg and sprinkle generously with brown sugar.
10. Bake for 30 minutes in a fan assisted oven (rotate halfway through the baking time).
11. Garnish with a few more fresh berries and give the galette a light dusting of icing sugar.
Serve with lightly whipped Chantilly cream.
This recipe can be easily adapted to suit what is in your fruit bowl. You can replace berries and apples with pears, nectarines or simply sliced strawberries. It's also great fun to play around with fresh herbs like thyme, for example, goes beautifully with nectarines.
Keen to give this recipe a try? Share it with the friends you would like to enjoy it with – perhaps on a summer's day picnic.