An inspiring guide to the best wedding day drinks
Picture this scene: It's a glorious day in your city. The sun has made its presence your friend. You look around and see familiar faces smiling, connected with yours and full of shared memories, relaxed and happily sipping on a glass of your favourite wine, the one you picked out. Later a crowd of happy revellers will lift their bubbling glasses and wish you well for your years to come. These are moments you'd sooner press pause on, and jump back into whenever you could. Drinks are an integral part of your wedding and as the big day approaches, it's time to start thinking about what you'll serve. Here's what we hope is an inspiring guide to serving your best wedding day drinks. The magic is in the details.
Where to begin when choosing your wedding drinks?
First up, ask your venue if they will allow you to bring your own drinks (and if there will be a charge for this). If not, they'll likely give you a set list of drinks to choose from.
If you know your wine, you've probably already got your eye on a few favourites. A nice touch is to choose options that have a personal story or are meaningful to you as a couple in some way. This could be:
The wine you drank when you got engaged
A favourite from a wine farm you visited together
The wine you enjoyed with your family on holiday
If nothing immediately springs to mind, don't worry. Another helpful starting point is to look at your menu and consider the wines that will best pair with the food you'll be serving. Ask your caterer for advice.
If you're still stumped, pick from our curated list of wedding wine and bubbly to fit your budget.
Our wine and bubbly recommendations for your wedding
Consider quantities
You'll need to turn the numbers up or down depending on whether you've got a booze-loving crowd but as a basic guide, work on approximately one bottle per head. So, if you are having 100 people, go with 100 bottles (say, 30 bubbly and 70 wine).
Beyond the wine and bubbles
Craft beer for weddings is on trend right now, but if gin is more your thing, a gin bar could be just what you've dreamed of. Here's the craft beer we'd recommend for your special day:
Our craft beer recommendations for your wedding
If you're on a budget, Jack Black Lager is a great choice. It's craft beer at just about mainstream prices.  The other option for craft beer on a budget is Boston Lager.
The best value for money craft beer selection by a long margin is the Wedding Drinks Mixed Case. It's a collection of the best beers sourced every month for League of Beers' Beer of the Month Club and is a great value offering.
For couples who want to provide excellent craft beer regardless of the price, we'd suggest the CBC Mixed Case. It's not outlandishly expensive, but it's not cheap and your guests are guaranteed to be satisfied. If you are a Rupert or Rockefeller and are keen to impress the Happy Socks off your guests, then the single and rare range is for you. These beers are expensive to brew and expensive to source but are worth every cent in grain for the connoisseur.
Other refreshments you should include
Of course, not everyone enjoys their liquor, so, don't forget about the soft drinks and water to keep your guests refreshed. A little Elderflower Cordial is rather a treat or go for large carafes or water dispensers of water with sliced fruit.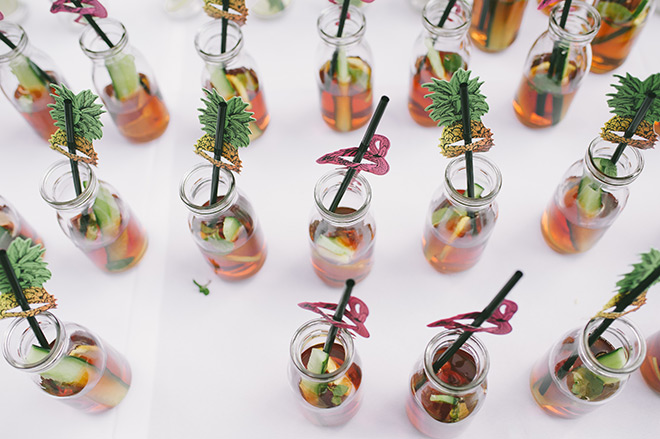 Whatever you choose, whether wine, gin, beer or bubbles, your guests will no doubt appreciate the spoiling and a day of feasting and merriment will be yours to remember for years to come.
Take us up on our special offer. We give discounts on bulk orders of wine, bubbly or craft beer. Remember to inquire with one of our customer service agents if you want to customise a wine party pack or order even larger quantities.
Images courtesy of Rebecca and Bruce of Love Made Visible.