An easy cranberry quinoa salad
Summer is around the corner and so is the time to say goodbye to heavy, rich meals, and hello to fresh, light dishes. Nothing says summer time like a delicious, crispy salad filled with the season's best produce, but it can sometimes be tricky finding inspiration to create new combinations or come up with alternative salad ideas. This salad is an absolute winner. Not only is it packed with healthy ingredients, it will also fill you up and keep you satisfied during the day, and with the added flavours from
Melissa's
products, this quick and easy dish is perfect for lunch, dinner or a work-time snack.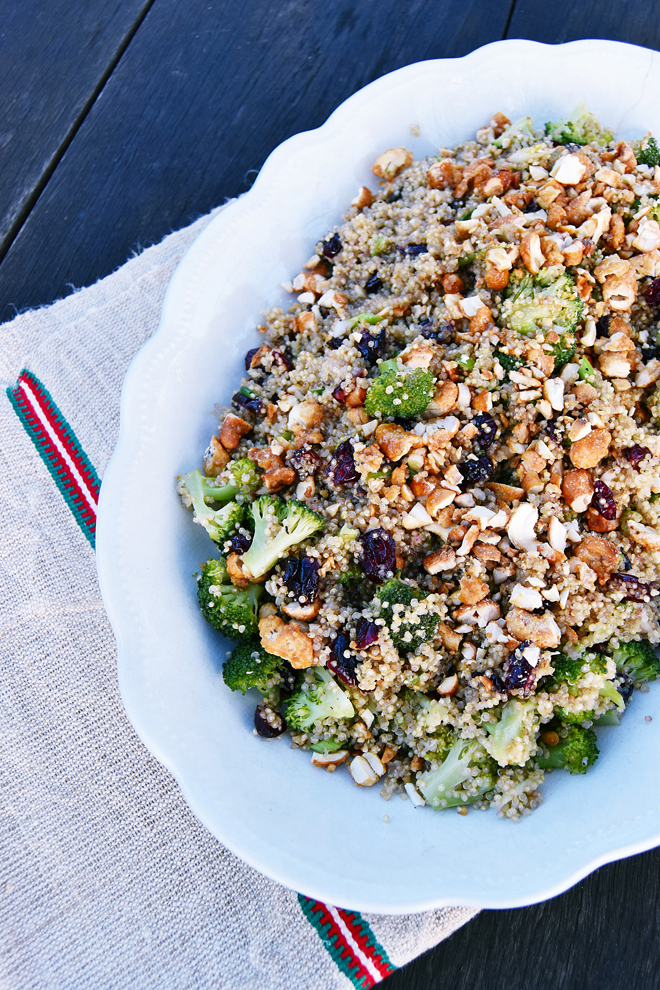 Ingredients:
Serves: 6 | Prep time: 15 minutes | Baking time: 10 minutes
For the salad:
1 cup quinoa
1 cup boiling water
1 tbsp Melissa's Everyday Rub
1 cup cranberries, dried
1 head broccoli – use florets only
6 spring onions, sliced finely at angle
Salt and pepper to taste
100g cashews, roughly chopped
For the dressing:
2 cloves garlic, crushed
3-4 tbsp Melissa's Cranberry & Pomegranate Balsamic or Melissa's Vinaigrette
Salt and pepper to taste
Method
1. Place quinoa in pot with water and Everyday Rub, once it's boiling, cover with lid slightly ajar.
2. Reduce heat to low and simmer for 10 minutes or until all the water has been absorbed. Remove from heat.
3. Add the cranberries, cover with lid and let it sit for 10 minutes.
4. Season with salt and pepper and fluff gently with fork. Transfer to a bowl.
5. In the same pot add a little water and bring to boil. Blanch the broccoli florets until bright green and still crunchy. This should only take a few minutes.
6. Drain the water, and run under the cold tap to stop the cooking and cool them down. Then break florets into smaller pieces. Add this along with the spring onions to the quinoa and cranberries. Place in fridge to cool.
7. Mix all the ingredients for dressing and add to quinoa, top with cashews.
Recipe compliments of Melissa's.