A-Z of cooking with kids
A is for alphabet soup, B is for baking… The summer holidays are a great time for kitchen adventures and teaching your minichefs some neat skills and new meals. If a night off for the cook and some fun and games in the kitchen sound like a plan, here's a kitchen alphabet to get your kids singing about their supper. A big thanks to Natalie Bell for this rather superb A-Z on cooking with kids.
A is for alphabet soup: reach for your simplest minestrone recipe and add alphabet pasta to improve your kids' spelling and appetite.
B is for baking: be it crunchies or cupcakes – baking is a tried and tested way of celebrating special time with your kids and enjoying sweet benefits. Double chocolate cupcakes, perhaps?
C is for cookware: teach them to love it (and how to care for it) and your pans will thank you.
D is for dishes: get your children to help clear the table while you put your feet up and promise wonderful bedtime stories.
E is for eggs: fried or boiled – most children love eggs and sunny side ups are a simple way for your child to get cooking.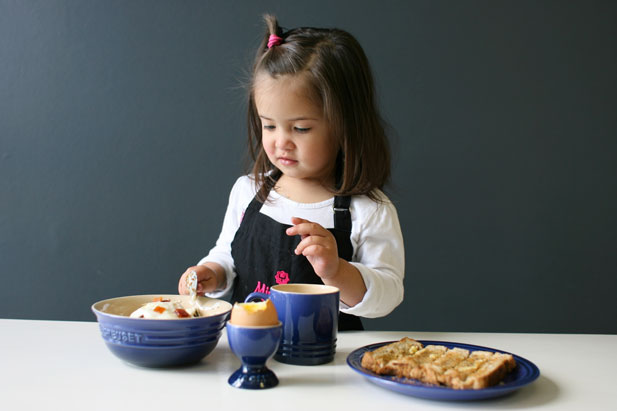 F is for frying: a dangerous activity but a great way for your child to get braver and build confidence making flapjacks for breakfast, rosette cookies and other fried delights. (Be sure to be just an elbow's length away, to help with any emergencies.)
G is for grating: cheese for pizza, carrots for coleslaw, and hopefully not fingers. Here's a recipe for pizza for little people.
G is also for grinding: such as grinding spices for that delicious mild curry or dhal. A heavy pestle and mortar is a wonderful tool for little hands to grind spices really finely.
H is for houses: gingerbread houses are an essential activity for the holidays. They look so good when dolloped with a good layer of royal icing snow and edible glitter. Go on, make a rather fantastic gingerbread house.
H is also for hummus: show us a child who doesn't eat hummus – such a simple thing to whip up in a blender and a great dip for carrot sticks. Here's how to make it (sub in and out ingredients if you fancy).
I is for ice cream. What's summer without ice cream and lollies? Sail away on the icy ocean waves with these Sailboat lollies or have a go at these ice cream and cookie sandwiches.
J is for juicing: loads of freshly squeezed orange juice to boost the Vitamin C needed to fight off all the bugs. Here's some traffic light juice inspiration.
K is for kneading: what more wholesome activity can you think of than baking bread? Mix up a bowl of bread dough and let them watch it sleep and grow – then they can form and bake their own special loaves or set little ones free with a pasta machine.
K is also for knives: sharp, yes! But teach them how to use a good knife properly and practise, and they'll thank you for the rest of their lives.
L is for love: if you don't cook with it – the food just doesn't taste as good.
L is also for laying the table: make it special with candles, flowers and fun summer decor.
M is for macaroni cheese: make cheese sauce together, throw it over cooked pasta with other delicious ingredients and they know how to make their own first meal.
N is for nachos: mash up some avocados with lemon, salt, garlic and pepper and you have an instant snack with nachos chips.
O is for onions: show them the best way to chop an onion and they'll have a skill for life. Laugh about the tears too! Here's how to chop an onion.
P is for peeling vegetables: a good peeler and a lesson from one in the know and your kids will be peeling those potatoes for homemade chips or gnocchi in no time.
Q is for quiche: make a pie crust together, choose a filling and let them make individual mini-quiches for snacks.
R is for roasting: veggies, chicken and potatoes. We advocate the return of the Sunday Roast.
S is for smoothies: easy to blend with a stick blender and whatever fresh fruit is around. Freeze berries and add to yoghurt for a great power-booster.
T is for tea: teach them to brew you a cup and sit back and enjoy! Pick herbs in the garden such as lemon balm and mint and they can brew magical potions for you.
U is for unpacking the dishwasher: a fabulous way to ease into simple chores and contribute to the family tasks.
V is for vegetables: disguise them and you'll be amazed at how they go down! Chop them into fun shapes and dip in hummus. Here's a recipe for chicken and sweetcorn pies.
W is for water: teach them to drink it, not to waste it and to wash their hands with it before and after handling food.
X is for Xylitol: a popular sugar substitute for the health conscious with all kinds of hidden benefits. Use it in baking and when you need an X to complete your A-Z minichefs!
Y is for yoghurt: loved by most children, a great mid-morning or mid-afternoon snack, and a fantastic ingredient in dips, smoothies, cakes and curries. You can even make your own.
Z is for zesting: citrus fruits for those cakes and tagines – kids love a gadget and a zester is no different. Mind the fingers!
Z is also for Zoku. Ice lollies in 7 minutes without electricity –  a summer holiday wonder.
For more recipes especially for kids, take a look at our Minichef series and check out these 5 tips for cooking with kids.