A vegetarian Christmas menu to wow the crowd
It's true, when it comes to a festive spread the scales tip heavily in favour of all things meaty. Any vegetarians in attendance are often left to load up on the side salads and roast veg, picking out bits of bacon (because meat lovers shove bacon into everything) with no real star attraction. But we've got an all vegetarian Christmas menu spread that can easily hold its own with a downloadable shopping list.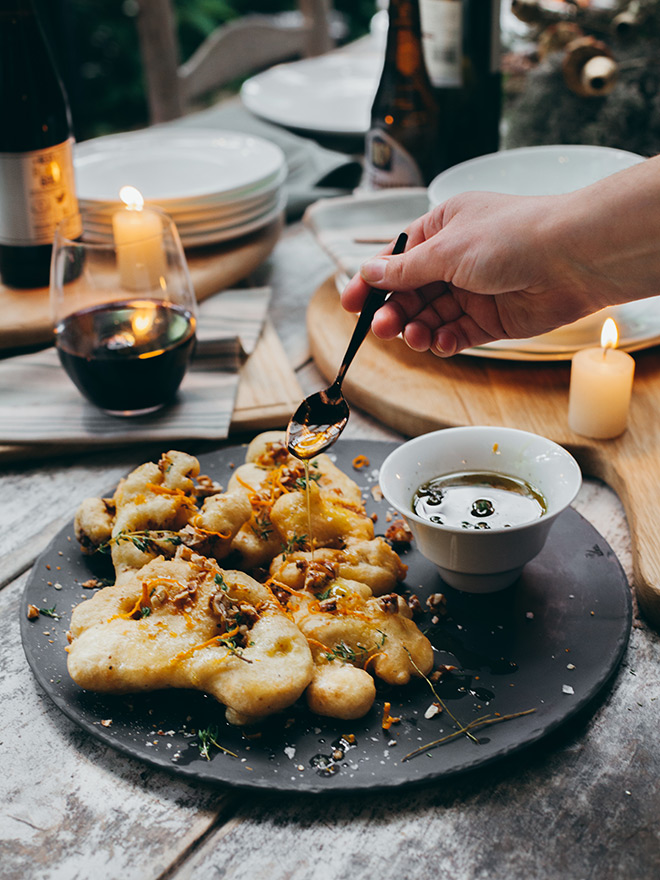 Starters: Ultimate umamilicious stuffed mushrooms
So quick to make, these little flavour bombs will set the tone for more meat free, delicious food.
Mains: Tempura cauliflower with maple dressing and caramelised nuts
Deep fried veggie goodness with a dressing so aromatic, these tempura caulis could become next year's turkey sub in.
Sides: Wild rice salad with pecan nuts and cranberry dressing
A filling, crunchy, texture and taste rich wild rice side that not only looks lovely but really adds festive flavour to your spread.
World's best roast potatoes
You're vegetarian, not Banting, so golden roast potatoes should always, always be on the menu. Don't mess with a good thing.
Dessert: Cheesecake ice cream cake with lime and gooseberries
Keeping things light and summery from starters to dessert – this tower of cheesecake-y biscuit crumble goodness really is the gooseberry on top.
If this sounds like the meat free spread you could get excited about download your vegetarian Christmas menu shopping list of everything you need to get started with all these recipes.
While you're at it, make a fellow veggie's day and share this menu with them, then sign up to our newsletter so you don't miss any more recipe spreads and inspiration.