A trend we love: dark food photography
We've fallen for the work of a certain 
Miss Katie Quinn Davies
, her recipes and signature dark food photography, and it seems that the love for this dimly-lit style is contagious. Here we take a look at this hot new photographic trend and fill you in on a few tips to achieving these sorts of photographs yourself.
Shying away from brightly lit, carefully-styled food, this darker, messier and generally moodier photography style seems to be settling in for the long haul.
Commonly known as dark photography, its more fancy name is chiaroscuro, which in delightfully contradictory Italian means 'light-dark'. It's actually a painting term used to describe clear contrast between light and dark, which makes sense since many of the finished shots resemble still lifes in many ways. The brand new What Katie Ate cookbook is filled to the brim with lovely examples of this style.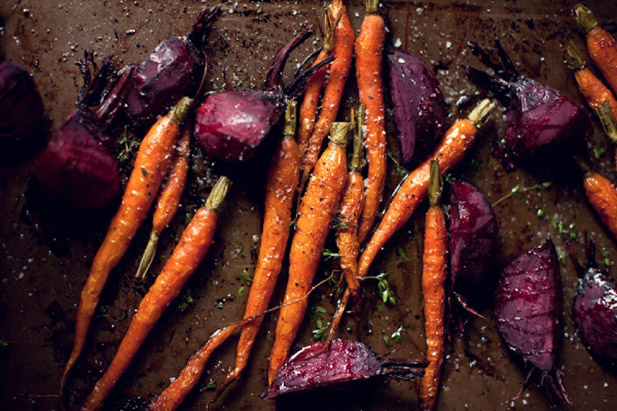 Food shot in this way often seems more natural, as if the viewer has opened a cupboard to find a gorgeous bunch of carrots just lying in a basket. The smidgen of mystery adds to the charm, as the whole story isn't evident at first glance. Chiaroscuro invites us to take time and really look at an image, searching hungrily for the details.
Contrast is key. Many stylists and chefs manage to create this look by using light cutlery against a dark background and placing dark food on reflective plates to catch the light. Wood and antiques, old spoons and spilled ingredients are also often used. This rough, almost 'medieval' style seems to be giving well-lit and white shots that often feature a distressed wooden board a good run for their money.
Dark food photography works especially well with chocolate and pastries, as seen in this beautiful shot of chocolate ravioli from Athena Plichta:
Some of our favourite sites that do this so well are Call Me Cupcake  and Drizzle and Dip, as seen here with Samantha Linsell's Red Velvet Cake Ice Cream.
So, how to go about taking these dimly-lit shots?
The trick seems to be shooting with natural light, which can lead to some stunning effects, if done correctly. Natural light is temperamental and leads to surprising results, depending on the time of day, weather and season. Apparently, morning and late afternoon or dusk in the summer time are the best as they offer a more gentle light.
Useful props:
dark fabric or boards
as many old and interesting props as you can get your hands on like antique metal plates
brown paper
cutlery (the older the better)
lighter fabric
cutting boards for contrast.
An easy way to play with the light is to paint one side of a piece of thin wooden board black and the other white. This board can be placed at various angles or held in place by your trusty assistant while you take the shot, though we must warn you that dogs don't stay still very long so learn from our mistakes and stick to humans.
Place your food next to a window, so that the light is only coming in from one side. Katie Quinn Davies uses candles in some of her images which add another element to the mood. You may want to close the curtain or blind slightly to add more shadow. In the end, it's a game of trial and error depending on the look you are going for. Some people like to play with the exposure on a program like Photoshop after shooting but this look is all about embracing the natural light so don't see that as an essential step. Don't be afraid to get messy and creative with your styling, as this look isn't about neat, orderly placement. See how Call me Cupcake topples her ice cream cone with reckless abandon? We love this picture from her blueberry cheesecake ice cream recipe.
Happy experimenting foodie photographers. Send your moody shots and tips through to us – we'd love to see them.
Katie's images taken from What Katie Ate ~ Recipes and other bits and bobs