A succulent roast lamb anyone can make
The confidence to attempt making roast lamb often only bubbles to the surface after many moons of knife wielding and culinary success –  for most at least. It's an impressive main, let's be honest. The truth is though, that with some simple guidance, you can, without sweat on your brow, cook up a succulent roast lamb bursting with subtle flavours from your garden. Familiar faces in your kitchen, that arrive with wine – well that's possibly the best reason to cook, and they'll love this.
Ingredients:
Prep time: 15 minutes | Cook time: 1hr 15 mins – 2 hours (depending on lamb preferences) | Serves: 8–10 
For the lamb:
1 leg of lamb, weighing approximately 3kg
4–5 garlic cloves
Zest of 2 lemons
Coarse salt and pepper
3 or 4 sprigs of rosemary
For the gravy:
Peel of 2 lemons
250ml (1 cup) of stock
200ml white wine
3 Tbsp cream, add more if needed
Fresh mint leaves
Method:
1. Preheat oven to 200°C.
2. Using a sharp pairing knife, make deep hole like incisions all over the lamb leg and squeeze in a few garlic cloves into each one as well as some rosemary.
3. Then get out your microplaner and cover the top of your lamb with the zest of two lemons.
4. Grind over salt and pepper and pop in the oven for 30 mins to brown the skin.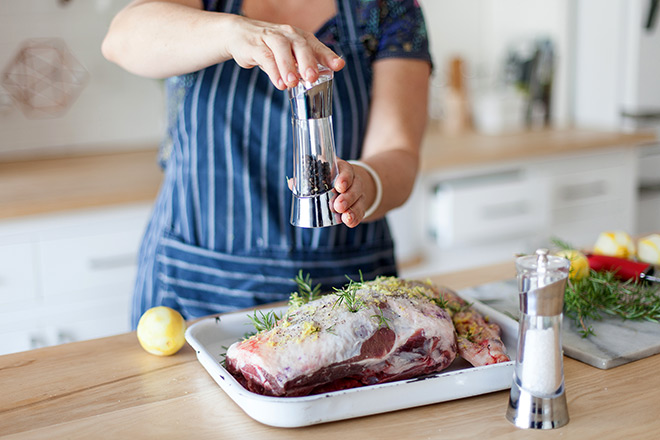 5. Turn the heat down to 170°C for the remainder of the cooking
For a rare roast: cook for a further 45 minutes.
For a medium rare roast: cook for a further 1 hour
For a well done roast: cook for a further 1 hour and 20 minutes.
6. Remove the lamb from the oven and then from the oven tray and onto a wooden board and allow to rest for 15 minutes before carving.
7. To make the gravy, pour off any excess fat and try to keep the gritty bits. Place the roasting pan on the hob and add the lemon peel as it heats up. (If your roasting pan is not made for the hob, scrape all the bits into a small saucepan).
8. Whisk in the cup of stock and wine. Allow the alcohol to burn off, then stir in the cream and mint. If you would like the sauce to be more creamy add extra cream to your taste.
Serve the carved roast with your gravy and any other accompaniments you know will make the gathering around the table happy. Say roast potatoes for example, everyone loves a good roast potato.