A prawn and avo ritz platter to get the party started
If you're not one to keep up with the latest trends then let us break the news to you – the 80s are back and we're bringing it to the kitchen. While this craze may not be around for long, there's one retro classic that never seems to go out of style. Yes, we're talking about our old faithful, the prawn cocktail. It's an easy way to bring a touch of class to any meal and the best part is that it takes hardly any effort to turn out.
Ingredients
Prep time: 15–20 mins | Cook time: 10 mins | Serves: 6
A dash of soy sauce
36 prawns (about 1.5kg of medium to large sized prawns)
Olive oil, for the prawns
Salt and pepper, for the prawns
1 cucumber
2 Tbsp red or white wine vinegar
1 Tbsp castor sugar
1 tub crème fraiche
4 Tbsp ketchup
A splash Worcerstershire sauce
1 iceberg lettuce, shredded
1 handful of dill
3 avocado, halved
For the mayonnaise:
1 egg yolk
1 tsp Dijon mustard
1 Tbsp sugar
2 Tbsp vinegar
Salt and pepper, for seasoning
100ml sunflower or canola oil
2 Tbsp (30ml ) olive oil
Method:
1. Bring a large saucepan of water to the boil.
2. Add a dash of soy sauce and pop the prawns in the water to cook for about 10 minutes.
3. Remove the prawns from the water and drain.
4. Toss the prawns in some olive oil, salt and pepper and set aside to cool.
5. To make the mayo, place the egg, Dijon mustard, sugar, vinegar and a good seasoning of salt/pepper in a jug. Using a blender, blitz the mixture to form a smooth batter. Mix together the two oils and slowly start dripping the oil into the mixture whilst blending constantly. Keep the oil pouring at a steady, slow stream until the mayonnaise is thick and glossy. Place it in the fridge until needed.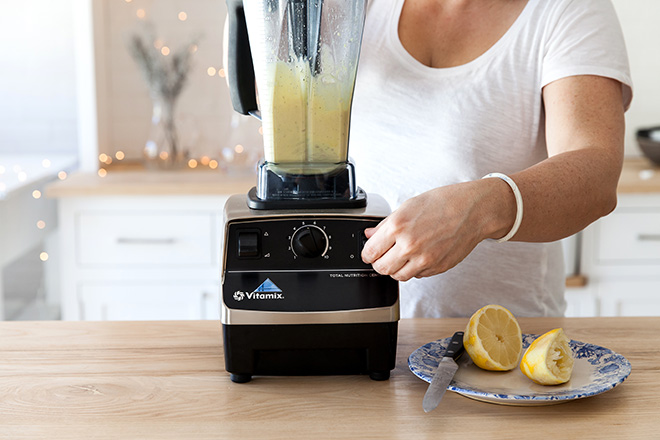 6. Peel the cucumber into ribbons. You can use a veggie peeler or a mandoline for this job. Sprinkle the ribbons with vinegar and sugar and toss until they are coated.
7. Mix together the crème fraiche, your homemade mayonnaise and the ketchup. Season to taste with Worcestershire sauce.
To plate, place the cucumber and shredded iceberg lettuce on a plate. Top with prawns, halved avos, mayonnaise and dill.
Prawns are packed with Omega 3, making this appetizer not only tasty but great for the heart too. If you're catering for vegetarians or seafood allergies, swap out the prawns for any type of hard cheese for an equally tasty win.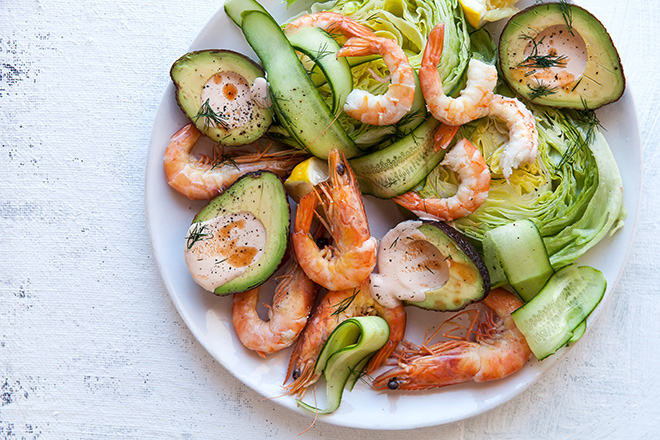 We might not be ready to break out the leg warmers and side ponytails but this is one 80s throwback that we can live with quite happily.