A Banting Christmas menu with downloadable shopping list
If you've just recently started Banting or have guests sharing the festive feast with you that are Banters, the thought of a Christmas menu might be overwhelming you with all the things technically not allowed. While it's not as much about what you eat as the people you share it with, we've put together a complete Banting Christmas menu with downloadable shopping list, so you're sorted from starters to dessert.
Starters: Homemade carpaccio
A starter should be quick and easy, not filling but wonderfully tasty. This homemade carpaccio will set you and your guests right for the main event.
Mains: Scarborough Fair Roast Chicken
You might think a Banting main involves copious layers of duck fat and bacon and complicated high fat gravies but really it can be as simple and wonderful as a flavourful roast chicken, seasoned with a bouquet of herbs, sans the breadcrumb laden stuffing.
Sides: Roasted broccoli and cauliflower with lemon zest and parmesan
Don't underestimate the classic roasted veg smothered in cheese. For a summery twist, this one is kept lighter with lemon zest and parmesan.
Pea, baby spinach and chorizo salad
To keep things light and green, this delicious salad from Sarah Graham will add another meaty layer to your spread.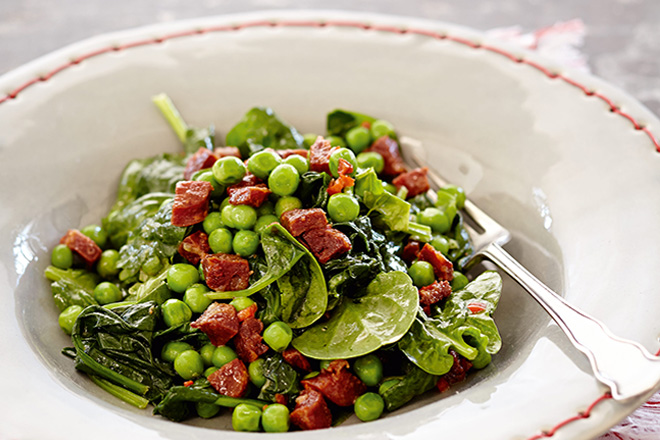 Dessert: Banting Chocolate mousse with coconut shavings and raspberries
The highlight of most menus is the glorious dessert that arrives at the end of it all. This gorgeous chocolate mousse has none of the stuff Banters are cautioned against and all the chocolatey goodness. Enjoy copious bowlfuls.
If this sounds like the perfect menu for your festive feast get your Banting Christmas menu downloadable shopping list so you have everything you need for all these recipes in one place.
Don't forget to share it with someone you know could use some help with their Banting Christmas menu planning and sign up to our newsletter for more menu options coming your way.