9 Yuppiechef birthday moments to remember
We turned 9 – can you believe it? In kid years it's halfway to adulthood, in dog years it's reaching retirement, but in company years it's big and small at the same time – so much behind you yet still so much possibility. We celebrated it like we do every year with our now 120 strong family in black and white style at Kelvin Grove. Because turning 9 wouldn't have been possible without all of you, here are some magical moments that, after all others have faded in colour, we hope remain the pop of gold to our black and white ball.
Plugging in a giant 9
On a hare-brained idea and a whim, a giant number 9 came into being covered in pics from photo booths gone by. We decided what better way to pay homage to our team of plenty than hugging them in fairy lights and placing them centre stage.
Black and white with a touch of gold
This was the theme for our soiree this year, and there's nothing quite like watching everyone turn up, dressed – well, to the nines with their party hats on.
A welcome of a different kind
Instead of the expected run down of the evening's events, our MD gave us a welcome of a different kind with a self written fairy tale play requiring the impromptu participation of our entire team in the reverse order of joining the company. A highly engaging laugh indeed.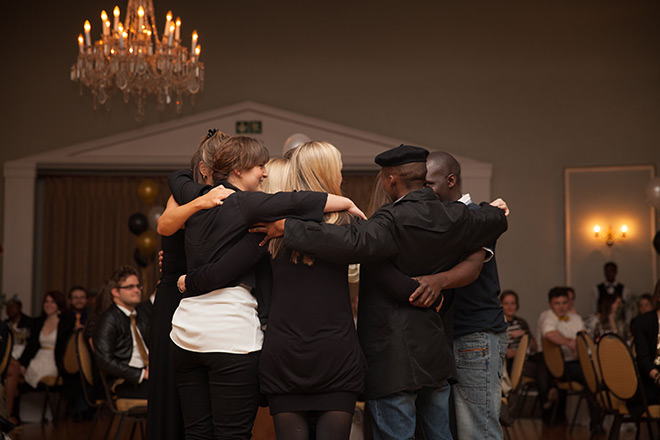 Cutting the cake
Our cake this year was a black and white fondant covered delight with many little accompanying cupcakes. Before the cake with gold candles could be cut however, we crowded in around the lit up dessert table for a many voices strong version of happy birthday to us.
Squeezing the entire team into one photo
We're not sure when the day will arrive that we no longer all fit into one frame, but turning 9 was not that year. Thankfully the venue had a balcony to lean from for the shot. If we had to swing from the chandeliers to make it happen, we probably would have.
Andrew's thoughts on turning 9
As part of the speeches, our CEO Andrew Smith shared his revelations on watching Yuppiechef turn 9. He likened it to watching his son Nate growing up and how easy it can be to wish the frustrating moments away in anticipation for the possibly more enjoyable years to come. But before you realise it, you could be wishing all the small details and joys that go along with the present away and so his take away was to fully live and embrace every moment, good and bad, as it is the only way to savour the now.
Photo booth hilarity
A few years back we could squeeze multiple divisions into a photo booth snap. This year we looked on with hilarity as barely an entire team made it into the comical crop out of props, pouting and poses.
Being serenaded by your fearless leaders
Post dinner we were all rallied up in front of the stage and enjoyed a secretly orchestrated performance by Evan, Shane and Andrew (accompanied by Evan's wife and Andrew's brother-in-law). It's not often that you get to sway to the singing and guitar picking of the guys who, Monday to Friday, inspire you to give your job it all. A very special moment indeed.
Realising that your entire team can now fill a ballroom dance floor
For one night only, we were able to create a club of our own and enjoyed the lights, beats and hilarity of razzling up a storm on a jam packed ballroom dance floor with our desk buddies and constant corridor companions, forging moments we'll no doubt weave into many a meeting in days to come.
A Greek dance off
All we're saying is, the dancing in the circle thing is much harder than it looks and also, no plates were harmed in the making of this tribute to our Greek team mates.
Parties like that are the best kind. You're in a beautiful venue, filled with wonderful and familiar faces, everyone is dressed with just a little more flair and you're all there to celebrate one amazing thing and dance into the night. It's a little like a wedding actually. Celebrating with this bunch is a joy like few others and we're eternally grateful to you all for getting us here, every year.
Happy birthday everyone.