6 winning tips for a stress free party
Parties are about people, more than a theme or anything else. But we can all get a little caught up in filling up ice trays and making sure the baguettes in the oven aren't setting the house on fire. Armed with a few simple pointers you can throw a great party this festive season without breaking even the tiniest of a sweat.
1. Keep the drinks flowing
Every good party needs good music and company. And then come the beverages. Here's what to keep in mind: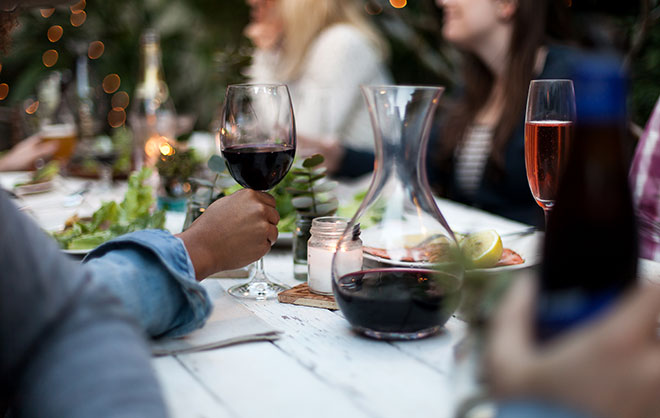 2. Stay chilled
Fill a large tub (or heck even a kiddies splash pool – no one is judging) with ice and pop bottles of beer and soda in to keep cool. Your guests can help themselves and you don't have to worry about Uncle Ernie rearranging your fridge to squeeze in yet another 6-pack of his hooch.
An ice maker is a pretty nifty thing too if you don't have one of those impressively intimidating double door fridges that also shine your shoes.
3. Party on a platter
For serving the food, any food platters are your friend. Not only do they make stretching and reaching for the last bacon wrapped asparagus much easier, but they're also a cinch to clean. You can even cover the platter in a variety of bites, segregating chip and dip to one end and crudites to the other.
4. Easy menus make the day
Think carefully about your menus, some will have you pre-prepping until you're blue in the face and somehow you still end up in the kitchen on the day of the party running around like a headless chicken, while others allow you to enjoy your own party with minimal fuss. Check out our best menus for hosting great parties.
5. Make some clear signs
This might be slightly awkward, but clear signs (ice, bathroom, glasses) take only a few minutes to put up, but will keep you from having to repeat yourself a million times during the party. No-one wants to have to ask to go to the bathroom, so rather empower them to find it themselves (and keep people from accidentally wandering into your broom cupboard while they are looking).
6. Get your guests to help clean up
Ok, we're not insinuating that you hand out mops for everyone to waltz along with. We're talking about compostable plates and an easy-to-identify spot where your guests can put their empty beer bottles to be later recycled. People want to feel part of the action and this can also mean helping a little with the tidy-up.
Armed with these pointers, any parties that come your way should be a cinch to throw together.
What are you planning this season and what are your best party planning tips?