6 registry gifts for the groom
We all know the wedding day is a big deal for the bride to be, but let's spare a moment for the groom. A wedding registry is a chance for the happy couple to kit out their kitchen and home with solid pieces that are built to last. And since we know little needs to be done to get the bride excited, we decided to share some nice registry gifts for the grooms of the world.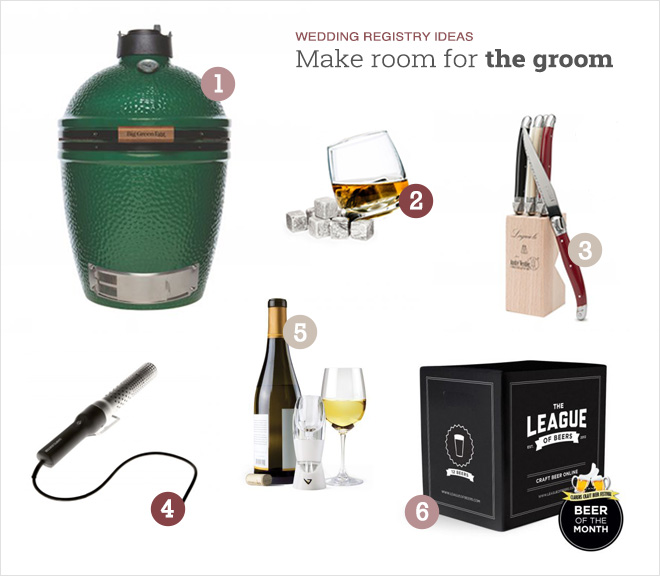 1.Big Green Egg Medium
With a braaing national heritage to keep intact, investing in the ultimate braaing experience is a good decision. The Big Green Egg in size medium can braai for the whole family and do a whole lot more. Plus, it just looks so funky.
2. Sagaform Whiskey and Drinks Stones Set
Poker night with the boys? Drinks shouldn't dilute while you hedge your bets. These Sagaform Whiskey Stones will stay cool for the game, even if you're hiding a royal flush.
3. Laguiole Steak Knife Set
Cutting into a well prepared chunk of meat shouldn't give you beef. This Steak Knife Set from Laguiole looks slick on your counter and will glide through your sirloin like it's butter. And that, folks, is a good feeling indeed.
4. Looftlighter Electric Braai Lighter
Keen for the wood smoked flavour of fire but not so keen on the time it takes? An Electric Braai Lighter from Looftlighter can have your coals hot in minutes. Just plug it in and let the hot air do its thing.
5. Vinturi White Wine Aerator
For anyone who likes their wine at the top of its game, this Vinturi White Wine Aerator will make your everyday Chardonnay an extraordinary one.
6. League of Beers Monthly Mixed Case
Married life is pretty exciting, but having your first year together start off with a Monthly League of Beers Mixed Case to boot is a hoppy adventure indeed.
If you haven't set up your registry yet, there's lots more where this great gear came from. If you have, add these quick before your bride beats you to it.