5 favourite pasta recipes for any kind of craving
Pasta is getting a bad rap, what with Banting and 'low-carb' at the top of many eating agendas so we thought we'd show it some love. Because sometimes, all you need is an oozing, cheese-laden lasagna. These are five of our favourite pasta recipes – they don't require armfuls of ingredients or hours of time – and well, they're the type of recipes that make a kitchen feel like home.
1. Lasagne – for when your soul craves comfort food
Don't be shy on the white sauce and cheese for this dish. It'll satisfy cravings when made with generosity. And leave extra Parmesan for scattering over the top with freshly snipped parsley. Got a friend who's just had a baby or know someone who could do with a dish delivered with love? This is it.
2. Almond and broccoli pasta – for when you want light and simple flavour
Pasta doesn't have to be rich and it doesn't require shopping bags full of ingredients. In fact, a few carefully selected ingredients like chilli and broccoli with some shells or fusilli can hit the spot for a hot or cold meal.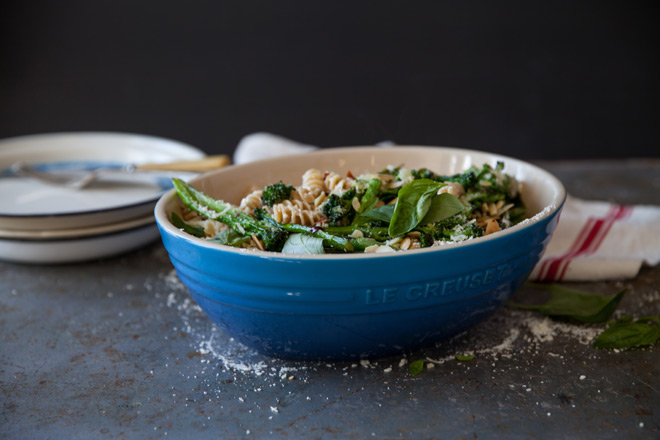 3. Carbonara – for a quick and classic supper
Have you ever made carbonara? If you haven't then let us be the first to tell you that carbonara has saved us on many an occasion when time and a lack of ingredients almost had the better of us. And it's not as though you're ending up with an average meal – it's carbonara, so delicious.
4. Creamy alfredo – for when you've had a long day
This dish has the power to restore order back in your life. The creamy union of white sauce, mushrooms, olives and zucchini is a gentle, unassuming flavour, that doesn't take long to make so won't keep you on your feet for ages and it's not too heavy either so you can happily eat a bowl and curl into a ball of comfortable happiness.
5. Roast tomato veggie noodle pasta – for lazy weekends rather spent outside
This pasta dish is the classic 'don't try too hard' combo of success. Slow roasted tomatoes, basil and cheese are always going to be a welcome flavour and on days when you want little prep but a dish that tastes of patience and slow cooking, this is your guy.
No matter the occasion, for the pasta lover, there's always a dish that will hit the spot. We hope these come in handy.