5 DIY Easter eggs from Pinterest
Colourful eggs are a welcome sign of all things Easter, as well as being a fun DIY project to tackle at home. Keep your bounty of chocolate safe by including some nifty DIY decorated eggs in your Easter hunt this year. Take a peek at these creative ideas we spotted on
Pinterest
.
1. Golden marbled Easter eggs
Don't they kinda look like little, oblong Earths? You could have azure oceans with gold continents, but we like the pink milkshake ocean. See how it's done.
2. Ombre Easter egg charm
Fashion isn't the only thing going nuts over ombre these days. Eggs can be trendy too and these DIY ombre dyed Easter eggs are oh so very pretty. Here's a how to.
3. Permanent marker doodle eggs
In our opinion, one of the best things in life is doodling. So, forget about colour for a second. Whip out your permanent marker and make these super simple doodle Easter eggs. Try it out with a gold pen for something more glam. Get the know how.
4. Neck tie dyed Easter eggs
Surprisingly enough, gaudy ties make the loveliest eggs and creating these one of a kind Easter eggs is easier than you think.  If you're dyeing to to try it (see what we did there?), here's how.
5. Silhouette Easter eggs
These may be the fanciest eggs the Easter bunny has ever laid eyes on. Keen to give these silhouette Easter eggs a whirl? Head this way for a step by step guide.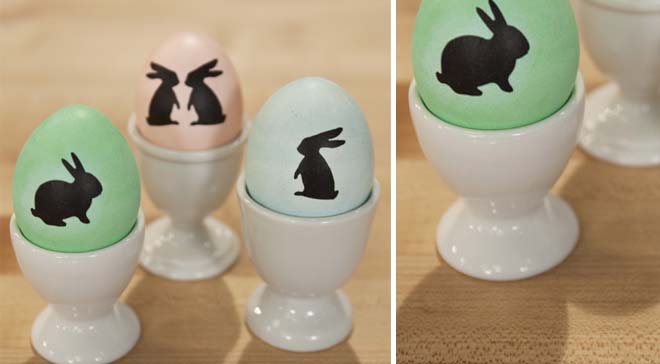 Hop to it, folks. For more of our favourite things, take a peek at our boards on Pinterest. You may just see something that you like.