15 things you'll learn from Indulgent Chocolate Creations in partnership with LINDT
Imagine a day in the life of a master chocolatier, stirring bowls filled to the brim with liquid chocolate, experimenting with interesting new flavour combinations and carefully crafting one delicate chocolate creation after the next – it's an experience that will awaken all of your senses. In
Indulgent Chocolate Creations
, you're invited to join LINDT Master Chocolatier Dimo Simatos, as we explore this world. Learn these 15 things and there will be no chocolate adventure too dark and decadent for you to conquer.
Here's a sneak peak into a few exciting things you'll learn from this chocolate course:
1. Always dreamt of chocolate rain? You'll learn to create it, just like a master chocolatier would.
2. Learn how to melt and temper chocolate, making sure it's perfectly shiny and crisp when it sets again.
3. How to fill a profiterole without first cutting it in half.
4. Discover a brilliant trick that makes working with liquid glucose a breeze.
5. How to make pretty chocolate collars to wrap around your cakes.
6. The secret to making a virtually fool-proof caramel sauce.
7. Discover the science behind a deliciously gooey, melt-in-your-mouth chocolate fondant.
8. Learn two ingenious methods for getting sticky black vanilla seeds out of a vanilla pod.
9. Discover clever tips for making perfectly smooth chocolate ganache.
10. Learn how to create decorative effects on the outside of homemade chocolates.
11. Be privy to a little known secret for getting profiteroles to just the right shape while baking them.
12. Learn the ratios for making white, milk and dark chocolate ganache.
13. Learn how to cast a 3D chocolate mould. Think LINDT GOLD BUNNY and LINDT bear.
14. You'll discover how to infuse delicate flavour into baked goods or truffles.
15. Gain heaps of tips for using a piping bag with skill and finesse.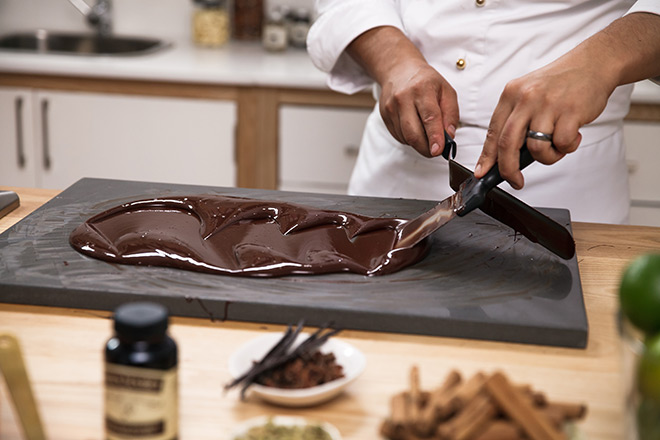 Sound like a fun, flavour-filled adventure? Sign up for Indulgent Chocolate Creations today and learn 15 new things before July has even begun. And to get your kitchen ready for all things chocolate, check out our chocolate collection for a stash of useful tools.