12 must-haves for your wedding registry
When it comes to planning the first day of your happily ever after, there's plenty to puzzle over. Your
wedding gift registry
luckily isn't one of them. We know there's lots to choose from, so we've pulled together 12 must-have goodies that will simply make your home sing. Ready for your new life? We bet you are.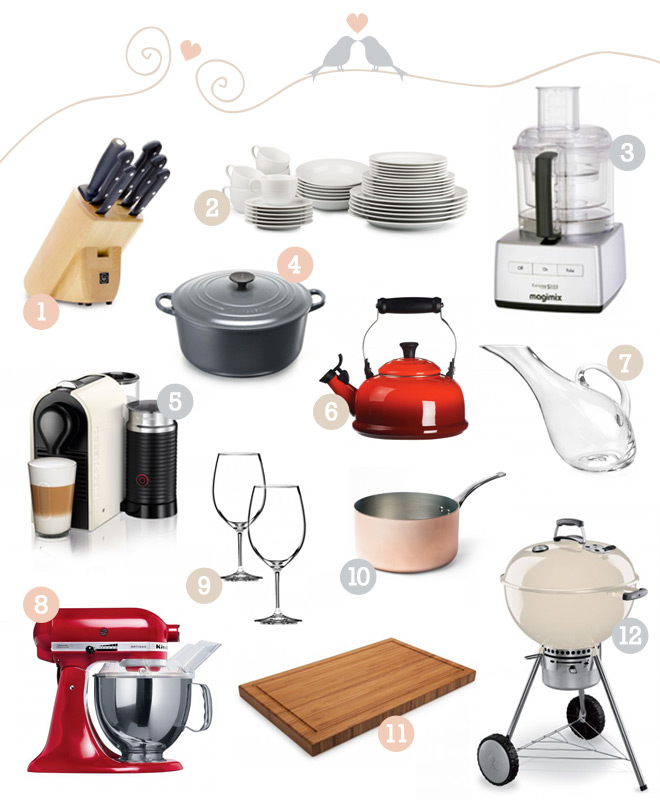 1. Wusthof Gourmet 6 Piece Knife Block Set
These German knives were made to cut through all the fuss and with this 6 piece block set by Wusthof your kitchen knives will be sitting pretty in beechwood, ready to slice through the grit and leave you feeling in charge. Like a boss.
2. Noritake Arctic White Dinner Service
A clean, white porcelain dinner service, like this Noritake Dinner Service, will stand you in good stead as you serve up casual brunches or exquisite Christmas dinners. After all, it's your cooking that should get all the attention and a white canvas does the job like a pro.
3. Magimix Food Processor
There's a reason this one sounds a little like 'magic'. Any chopping, blending, mixing or grating you need done, happens at the touch of a button. Versatile and efficient, the Magimix Food Processor is a cooking companion for life.
4. Le Creuset Cocotte
We've featured it before and we'll do it again because cooking a meal made in a Le Creuset Cocotte just makes you feel at home. Plus it allows you to cater for a big crowd, so that's less dishes too. Bonus.
5. Nespresso Umilk
If it's any kind of coffee in any size you're after, the Nespresso Umilk Automatic Espresso Machine is what you're after. Allowing you to cater for the whole family's caffeinated preferences, she sits quietly in the corner, oh-so-cute, with practically no fuss.
6. Le Creuset Kettle
Tea time doesn't have to slow you down, put a pot on the stove and carry on with your business. This charming Le Creuset Whistling Stovetop Kettle will call you when it's time to unwind. You won't even burn your finger, thanks to the larny, heat-resistant knob and handle. Fancy.
7. Bormioli Rocco Premium Gamma Decanter
Upping the ante of your wine is easily done with the aid of a stunning Bormioli Rocco Decanter. Let the wine breathe in style while you entertain and then take a leaf from the Greeks and Romans and pour your wine with grace and charm.
8. KitchenAid Artisan Stand Mixer
With a KitchenAid Artisan Stand Mixer on your counter, your kitchen will literally be ready for anything, anytime. From pasta to baking, it makes light work of any arduous task. The hardest thing you'll have to do is pick your favourite colour.
9. Riedel Wine Glasses
The days of enjoying vino from a paper cup are fondly remembered, but finally over. After a hard day's work let these champion Riedel wine glasses do what they do best and that's simply bringing the bouquets of your favourite burgundy into full flavour.
10. De Buyer Prima Matera Copper Induction Sauce Pan
Many a fine dish is completed by an excellent sauce and if you've ever tried making it in a wonky pan you'll really appreciate the beauty of a De Buyer Sauce Pan. Compatible with induction and all other stove tops, this is professional cookware in prima style.
11. Yuppiechef Bamboo Board
We feel quite strongly about giving your cherished knives the utmost care. Which is why we decided to put our stamp on a bamboo board. Self-healing and self-cleaning, it does pretty much everything for your knives, except cut the veg.
12. Weber One Touch Gold Premium Charcoal Grill
When the weather is good one simply must braai. What could be better than having a Weber Premium Grill in the waiting for opportune sunny days? This rust-proof, thermometer-equipped guy will be your braai day best man, wheels and all.
If your wedding registry could do with some of these additions or they've inspired you to set one up, head over to our wedding registry page or even browse a friend's to give a gift you know they've had their eye on.