10 linen essentials for your wedding registry
If you're planning your big day or you know a special couple who are, we hope you'll be as chuffed as we are that our wedding registry range just got soft and cosy. Take a look at these top 10 linen essentials.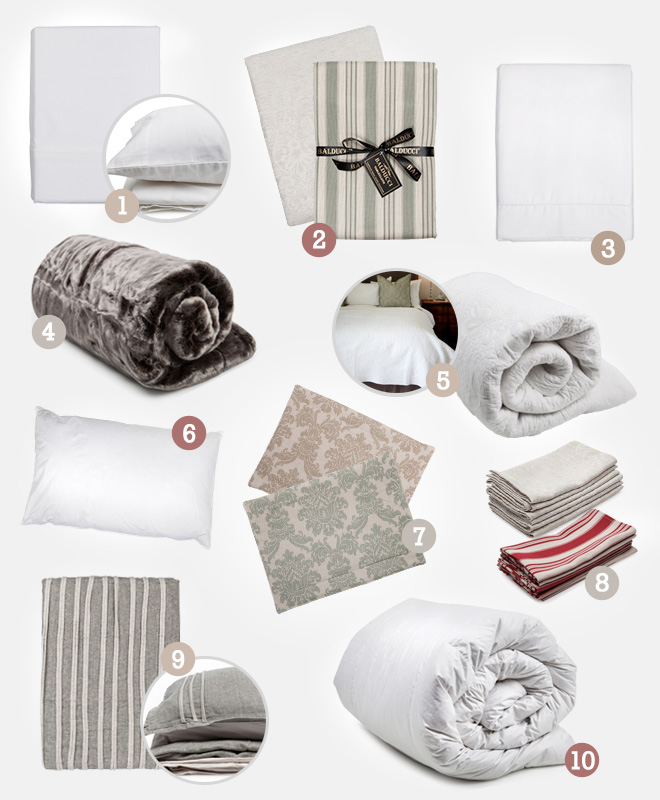 1. Linen House Cotton Four Piece Sheet Set
No one wants to start married life with bobbly sheets so adding a quality four piece sheet set to your wedding registry is a wise thing to do. This cotton set by Linen House ticks all the boxes for comfort and uncomplicated class. Sleep tight.
2. Balducci Earth Tablecloths
It's time to deck the tables, so how about setting the mood with one of these lovely tablecloths from the Balducci Earth collection? Ticking Stripes for a touch of whimsy or Damask Linen to complete a class act? It's a win win with these textiles.
3. Linen Drawer Satin Stitch Egyptian Cotton Duver Cover in White
The simple comfort of slipping under clean cotton, can't be beaten when it comes to bed time. Up the married life ante by adding an Egyptian cotton duvet cover by The Linen Drawer to your linen cupboard.
4. Linen House Faux Fur Throw
For lazy comfort on couches or added charm and warmth at bed time, this Faux Fur Throw is a good choice. A luxurious, soft feel with insulating fleece on the reverse side, the Linen House throw, in black and silver or chocolate and silver, will make for a much-loved creature comfort.
5. Linen House Chantel Quilted Cotton Throw White
Want a throw for your boudoir but prefer to keep it minimalist? This Chantel Quilted Cotton Throw is ideal for adding that extra layer of snug comfort without the hassle of clashing colours. Stitched and stylish.
6. Royal Comfort Premium Hungarian Goose Down Pillow, 90% Down
A gentle perch to rest your weary head at night is definitely a gift worth asking for. This Hungarian Goose Down Pillow strikes the perfect balance between support and lofty dreaming. Down right dandy, we think.
7. Balducci Earth Stone Damask Placemats
Placemats certainly have their, erm place on the dinner table. Whether you heat your plates or want to protect the table top from spills, this set of Balducci quilted Damask placemats sure make for pretty and easy-to-clean table top protectors. Fancy.
8. Balducci Earth Napkins
Serviettes are fine for the single life and perhaps a braai but sometimes a good set of napkins are the order of the day. To match your tablecloth or for quirky contrast, the Balducci Damask Napkins or the Balducci Ticking Stripe in various hues are handy.
9. Linen House Moonlight Duvet Cover Set
For those that fancy something a little more rustic for their sleeping quarters, the Linen House Moonlight Duvet Cover Set offers elegant stonewashed tones and earthy, linen fabric without compromising on the soft, cotton comfort below.
10. Royal Comfort Premium Hungarian Goose Down Duvet Inner
With the outer layers of aesthetics and tactile comfort covered, it's important to note that what's inside counts too. A Premium Hungarian Goose Down Duver Inner will keep everyone who crawls into bed cosy for many years to come.
With all these gorgeous bedroom homeware essentials now available on the Yuppiechef Online Registry, it really is your one stop registry shop. Check out the full bed and bath selection.